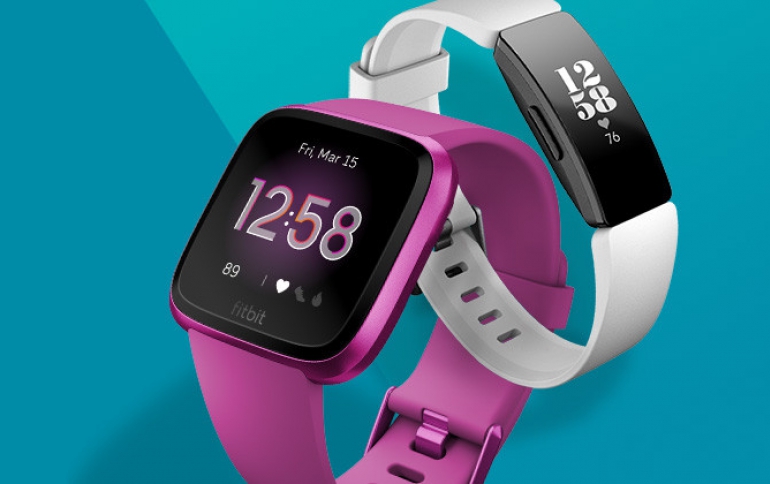 Fitbit Relases New $160 Versa Lite Smartwatch
Fitbit is hoping more affordable versions of its wearables will boost it sales and announced the Versa Lite, a stripped-down version of the Versa smartwatch.
The new Versa Lite now starts at $160 and comes in additional colors like purple and blue. The Lite retains size and the shape of the screen of its bigger brothers, it runs on Fitbit OS, and it offers sleep and exercise trackers. It won't, however, be offered with Wi-Fi, NFC, music storage, or swim laps / floor climb counts. And since there is no music playing mode, it also loses the volume buttons on the right side.
The Fitbit Versa Lite includes automatic activity, PurePulse 24/7 heart rate and Sleep Stages tracking, 15+ goal-based exercise modes, connected GPS, smartphone notifications, apps, 4+ day battery life and relative SpO2 sensor, which has the potential to estimate changes in blood oxygen levels and help track new health indicators about health, such as sleep apnea. It features a lightweight, swimproof design.
Fitbit also announced today a more lower-cost trackers: the Inspire and the Inspire HR.
Replacing the Alta line, the new Inspire line features the same functionalities, along with a touchscreen instead of tap and a clip mode that lets you wear the device on your clothes instead of your wrist. It packs all-day automatic activity, exercise and Sleep Stages tracking, with 15+ goal-based exercise modes, connected GPS, and Relax guided breathing.
For consumers who are new to wearables and want an even lower-cost tracker, Fitbit Inspire is available at $69.95 (USD). It has the essential health and fitness features, including automatic activity, exercise and sleep tracking, goal celebrations, Reminders to Move and timer and stopwatch apps to help users stay on track.
Both products have a new swimproof design with a touchscreen display, smartphone notifications, and up to 5 days of battery life for day to night wear.
Fitbit is also updating its kids-focused fitness tracker with the Ace 2, which now starts at $70. It has a cartoon animation on the main screen to help motivate kids to get moving.
Ace 2 has a new swimproof design with a bumper to protect the screen during kid-related activities all day long, and is available in bold kid-friendly colors and accessories that include patterned designs. Ace 2 debuts new animated clock faces, motivating challenges to keep kids moving, and colorful avatars and cover photos to personalize their profiles within the Fitbit app. Additionally, parents must create a Fitbit family account in order to set up Ace 2 with their child's account which helps them stay on top of their kids' activities.
The Fitbit Versa Lite, Inspire, and Inspire HR are available for preorder today at $160, $70, and $100, respectively, and they'll ship sometime this month. The Ace 2 comes out later this summer.
Fitbit will also soon launch a redesign to the Fitbit app so users can further personalize their dashboard, better understand their data, discover new content and more easily connect with others on Fitbit's social community.
In 2018, Fitbit sold 5.5 million smartwatches, behind the biggest seller Apple Inc's 22.5 million units, but just ahead of Samsung's 5.3 million units, according to data firm Strategy Analytics.
But Samsung overtook Fitbit on a quarterly basis in the last three months of 2018.