Facebook Makes Privacy Settings Easier to Find, New Home Products Delayed
Facebook will release a centralized system for its users to control their privacy and security settings in response to an outcry over the way it has handled personal data.
The system, which will be introduced to Facebook users globally over the coming weeks, will allow people to change their privacy and security settings from one place rather than having to go to roughly 20 separate sections across the social media platform.
Facebook has redesigned the entire settings menu on mobile devices from top to bottom to make things easier to find. Instead of having settings spread across nearly 20 different screens, they're now accessible from a single place. Outdated settings have been also removed.
Information about privacy, security, and ads will also be easier to find. The new Privacy Shortcuts is a menu where you can control your data in a few taps. From here you can:
Add more layers of protection to your account, like two-factor authentication. If you turn this on and someone tries to log into your account from a device Facebook doesn't recognize, you'll be asked to confirm whether it was you.
You can review what you've shared and delete it if you want to. This includes posts you've shared or reacted to, friend requests you've sent, and things you've searched for on Facebook.
You can manage the information we use to show you ads. Ad preferences explains how ads work and the options you have.
You can manage things like who sees your posts and the information you choose to include on your profile.
Faecbook is also introducing Access Your Information - a secure way for people to access and manage their information, such as posts, reactions, comments, and things you've searched for. You can go here to delete anything from your timeline or profile that you no longer want on Facebook.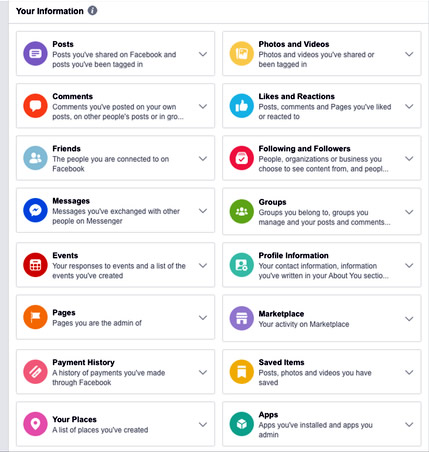 The company is also also making it easier to download the data you've shared with Facebook. You can download a secure copy and even move it to another service. This includes photos you've uploaded, contacts you've added to your account, posts on your timeline, and more.
In the coming weeks, Facebook said it would propose updates to Facebook's terms of service and will also update its data policy to better spell out what data the social network collects and how it uses it.
Facebook began developing the centralized system last year but sped it up after revelations that a British political consulting firm, Cambridge Analytica, harvested the information of 50 million users of the social network.
Regulators and lawmakers in the United States and Britain are demanding answers about how the social network deals with data privacy. Mark Zuckerberg, Facebook's chief executive, has reportedly agreed to appear in front of lawmakers on Capitol Hill next month.
New home products delayed
In related news, Facebook has decided not to unveil new home products at its major developer conference in May, in part because the public is currently so outraged about the social network's data-privacy practices.
The company's new hardware products, connected speakers with digital-assistant and video-chat capabilities, are undergoing a deeper review to ensure that they make the right trade-offs regarding user data, Bloomberg reports.
Facebook spokeswoman declined to comment.
The company is holding its developer conference in the 1st of May, where more information and possibly previews of the new products should be expected.