F8 2015: Facebook Introduces New Family of Apps
F8, Facebook's annual developer conference, kicked off this morning in San Francisco, where the company announced more than 25 products and tools to help developers build and monetize mobile apps. Facebook opened up its Messenger service for developers to create apps. For the first time, the company will allow developers to create apps that function inside the Messenger app, which has more than 600 million users.
Forty different apps will be available on Messenger in the coming days, allowing users of the service to send each other sports clips and animations, Facebook said.
Facebook is trying to transform ita messaging service into one that operates independently of the company's social media network, as it faces intensifying competition from Twitter and Google, as well as from messaging apps such as Snapchat and WeChat.
Facebook introduced a new way for apps to integrate with Messenger so people can better express themselves with GIFs, photos, videos, audio clips and more. For developers, this means more opportunities for growth and engagement.
With the new messenger, you can discover creative new apps without leaving the application, by tapping install when a friend sends a message from a Messenger Platform app. If a friend sends a message from a Messenger Platform app, tap the reply button to switch to the app to find the right response.
Facebook also previewed Businesses on Messenger, which allows you to have rich and personal conversations with businesses. For example, after purchasing something from a website, you can choose to receive updates in Messenger and continue your conversation with the business in the app.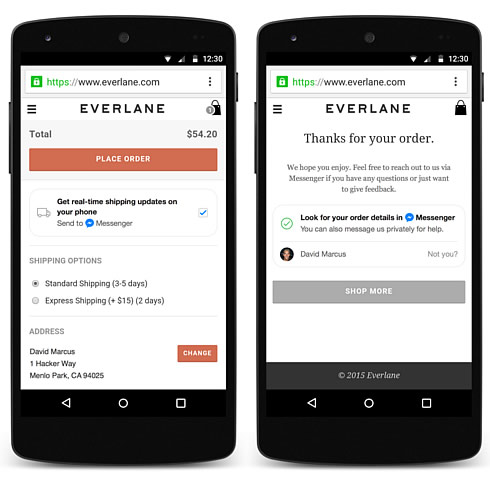 Once there, you will be able to receive relevant messages from the business including order confirmations and shipping status updates, and will be able to take basic actions like modifying, tracking or returning an order. You will also have the option to ask a business questions, make requests and get responses. This whole set of interactions and features are unified in a single, ongoing thread between the person and the business.
Facebook sais that Businesses on Messenger would initially launch with "a couple of partners" .
Other announcementes made today at F8 include:
New Share Sheet - A simple experience for sharing from apps to Facebook.
Facebook Analytics for Apps - Facebook Analytics for Apps helps developers build better apps. Developers can understand their audience, measure how people use their app across devices and improve their marketing campaigns.
LiveRail- Mobile app publishers can now use LiveRail's monetization platform to manage their video and display ads business. Additionally, LiveRail is enabling publishers to use Facebook's approach for delivering the right ad to the right audience.
Internet of Things - Developers can now use Parse to build a new category of apps for connected devices, from garage door openers to smoke detectors to wearable wristbands.
Social Plugins - Refreshed Social Plugins with updated designs. The Embedded Video Player is an entirely new social plugin that lets publishers embed native Facebook videos in a full-bleed video player. People can now watch and interact with Facebook videos from anywhere on the web.
Spherical Video Coming to News Feed - Facebook previewed a360-degree video experience in News Feed that lets you choose the viewing angle to explore your surroundings.
A few words about LiveRail -- the Web video ad technology firm it acquired last year. LiveRail was built to help publishers sell more video ads via multiple automated channels. Now, Facebook is extending LiveRail's technology to display ads on desktop websites and ads that appear in mobile apps.
Facebook says it can help media companies manage all of their ad inventory, and help them make more money along the way. Especially in mobile, Facebook has a wealth of data about users that helps in ad-targeting.
With LiveRail and Atlas, the ad serving platform that Facebook acquired in early 2013, Facebook is directly challenging Google in a bid to become the dominant back-end systems operator for digital advertising.
F8 runs Wednesday and Thursday at the Fort Mason Center in San Francisco.