Eweat EW902 4K Android Media Player review
3. Menu, settings
The Eweat EW902 runs on the Android 4.4.2 Kitkat operating system.
The device takes some time to boot up and display the interface, which look since although typical for media players. The left window is the HDMI input screen , and settings related to the internal audio/video player, the program area and the miracast screen are on the right. With the latest firmware installed, the player runs at 1280x720p.
You have full access to the Android market and update or install new apps:
As you see below we have installed several Android applications. You can navigate across them by using either the remote's four way button or with the cursor mode. In order to place icons on the main desktop you have to press the menu button on each app and select to send it to the desktop through the menu.
The settings area is illustrated below and should be familiar to Android users:
The OSD languages include simplified Chinese, traditional Chinese, English, Russian, Spanish, Czech,Dutch, Italian, French, German, Turkish, Hebrew and Greek. Since Android natively supports all the currently spoken languages, we feel that the EW902 could offer complete language support as well.
You can set the TV system to "Auto" and let the player select the video output. With not any 4K TV connected, the TV system menu will offer the choices you see below: 480p, 720p 50 Hz /60Hz, 1080i 50Hz/ 60 Hz, 1080p 50 Hz/ 60 Hz.
When we launched a movie it automatically set it to 1080p 24Hz. When the movie was finished the TV went back automatically to 1080p 60 Hz.
The device also supports also CEC in order to control it by using your TV's remote:
The "About" menu displays information about the Android version, your network (IP addresses), and also possible available updates (OTA):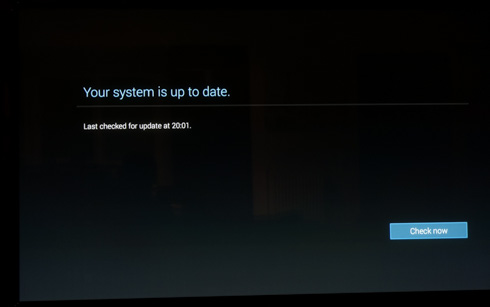 Firmware upgrades are possible via a USB stick and it takes around 2 minutes to complete. Everything you have installed will be lost following an update so make sure to backup all installed software prior to it.