2. The package
Evermore GT-800BT GPS is currnently available in online stores for ~$99.
The product is obviously different than simple GPS solution due to its logging abilities.
In the package you will find only the essentials and we would like to see car charging adapter:
1x USB cable
1x EU Plug
1x AC Power Adapter with USB
1x Moremapper Software CD
1x GT-800BT GPS unit
1x Re-chargeable battery
1x Quick installation guide
A big sticker inside the box provides basic instructions users should follow when they will use the device for the first time. The Evermore GT-800BT should be charged for 4 hours before first use. After powering on, the Green LED will light up indicating that the GT is performing the first time satellite fix. Once the green LED twinkle, the GT is ready to work. Sattelite fixing may take 3-5 minutes.
The Evermore GT-800 is a small, standard-sized GPS receiver and its weight is 60gr (including battery).
Below you can find information about the LEDs and buttons found on the device: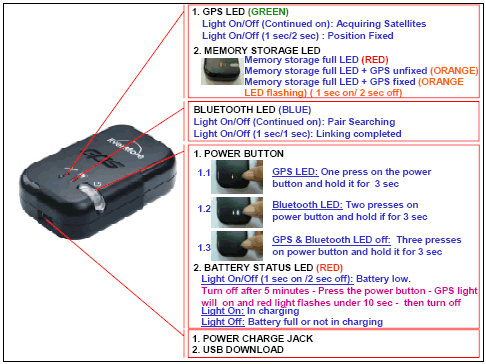 The main on/off switch is placed on the front side of the device. The mini-USB port for charging and connecting the device to the PC is placed at the bottom side.
Opening the case on the back, again we will find a warning about properly charging the device before use.
The bottom label gives us more details about the product's features.