EnGenius ECW230 Access Point
2. Retail Package
The EnGenius ECW230 comes at a "high" cost, meaning it's not a product for entry level/medium sized users, but rather for enterprise use. Its retail price is around $599, which obviously will limit the potential market for this product. However at the Enterprise level or for getting a highly advanced Access Point, you need to spend lot of money after all.
The product has 2 years of warranty and of course all major certifications like CE, FCC, and IC. The product also has been tested to work from (0 ºC~40 ºC and Humidity (non-condensing) 90% or less. The retail package is simple, just the basic stuff here.
Opening the box, unveils its contents, not much are happening here, you will find two secure mounts (for wall/ceil), mounting screws and a quick start guide.
The main product is secured
Removing this product, unveil a rather "big" sized Access Point. Its dimensions are 210mmx210mmx33.2mm with 572gr of weight. The building material is good quality plastic and at the bottom you will find metal housing that helps dispass the produced heat.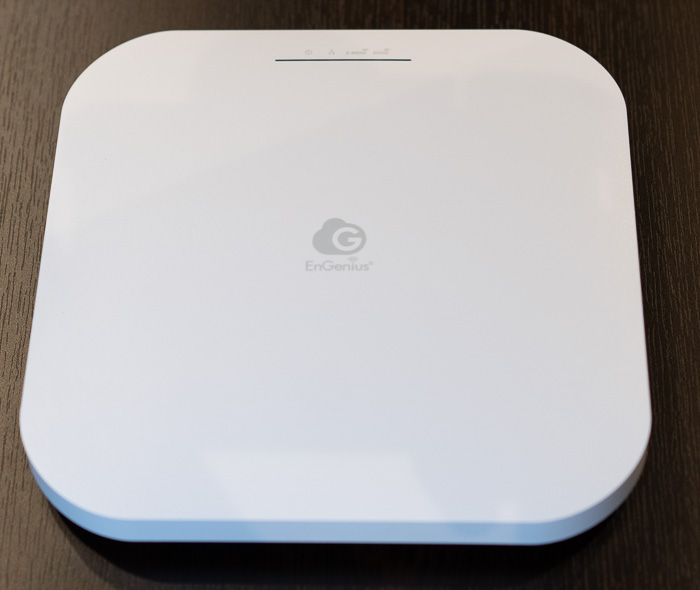 At the top area, you will find several LEDs, indicating the product's operation speed and giving a quick look at the overall functions. Those LEDs can of course turned off, for stealth operation.
At the right area, you will find a Kensington lock

, while at the bottom, the product ID label and several ports, like the reset hole, a 2.5G LAN port and a DC 12V power input.
The ECW230 AP is based upon a quad-core Qualcomm ARM Cortex A53s CPU clocked at 2.0GHz, which for sure will help it survive high loads and many different clients, as well as heavy tasks as QOS that is a must with high clients' number.
In order to power up the product you will need either a POE capable switch, or simply a DC 12V power adapter. POE switches are also much more expensive compared to a normal switch, so keep that in mind. The switch must be rated of 802.3at and the input 12VDC /2A.
For our tests we used the EnGenius ECS1008P 8 port Gigabit+2.5G Managed PoE Switch that is rated at 55watt and comes at the retail price of 200 Euro/$, depending the region you are placed. Of course you can use any other PoE switch if they are rated at least 802.3at. The EnGenius ECS1008p however has the EnGenius Cloud support, that will be explored later on at our review.