1. Introduction
The ECS KN3SLI2 is the latest motherboard from Elitegroup for AMD AM2 processors. In this review, we will take a look at its features and examine how the motherboard performed against other well known AM2 based motherboards from Foxconn and Asus, all based on the nVidia 590SLI chipset.
- ECS KN3SLI2
The KN3 SLI2 motherboard supports the new AM2 CPUs which combined with the NVIDIA nForce 590 SLI chipset, gives enthusiasts and gamers a potent mix of dual full-bandwidth PCI-Express GPU support. The KN3 SLI2 supports versions of the AMD Athlon FX, Athlon 64 X2 Dual-Core, Athlon 64 and Sempron CPUs (all of which are socket AM2) as well as the new AM2 Energy Efficient microprocessors. AMD's new lineup of low power processors provides 35W and 65W versions of AM2 processors for increased energy savings. Unlike socket 939 and 754 motherboards, the KN3 SLI2 breaks through previous limitations to support dual channel DDR2-533, 667 and 800 SDRAM memory, which increases overall performance.
The KN3 SLI2 meets AMD Live!TM digital media platform requirements. Supported by AMD Live!TM, the KN3 SLI2 provides complete multimedia power to create and bring digital media content to all rooms of a home. The KN3 SLI2 has an 8-channel audio codec for great HD audio, plus numerous I/O and storage features.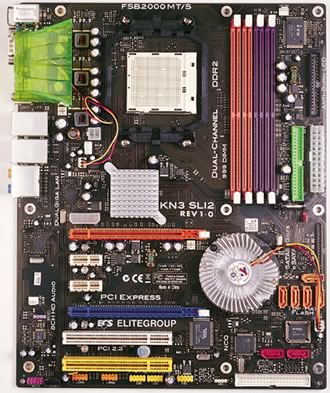 The KN3 SLI2 has tremendous overclocking ability that is made easier by ECS' I.O.C. (Instant Overclocking Controller) that enables the system to automatically boost frequency to enhance overall performance by intelligently detecting changes in CPU loads. This design is great for experienced and less experienced gamers alike, instantly adjusting system performance to match their needs and makes overclocking easy and safe.
The KN3 SLI2 is also part of NVIDIA's "Tritium" platform development which guarantees the highest out-of-the-box PC platform performance. Tritium MCPs, Tritium GPUs and Tritium DIMMS are perfectly matched to give enthusiasts the overclocking ability and performance they need, with excellent stability and easier configuration. Other KN3 SLI2 features include a Realtek ALC883 audio codec for 8-channel HD audio and a host of I/Os including 6 x SATAII 3.0 Gb/s, 8 x USB 2.0, Dual Gb Ethernet, RAID 5 support, 2 x S/PDIF (Optical and Coaxial), and 2 x 1394a.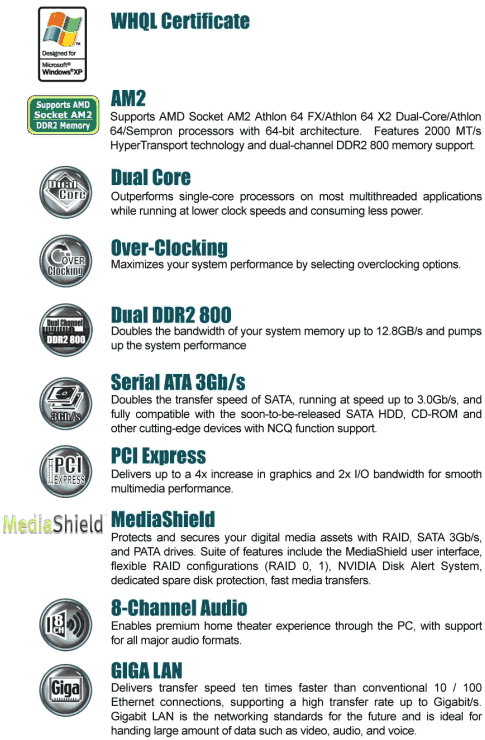 - Main features
NVIDIA nForce® 590 SLI™ MCP chipset that supports NVIDIA® SLI™ technology, at full x16 speed
Extreme overclocking and unprecedented control over system behavior
Socket dual channel DDR2 800/667/533
Supports SATA 3Gb/s and RAID 0, 1, 0+1, 5 functions
Supports Dual Giga LAN & IEEE1394 connection
Supports high quality 8-CH Intel® High Definition Audio
- Full specifications