Duet CD-R2-U2 CD-RW/DVD COMBO
11. Conclusion
Duet CD-R2-U2 slim CD-RW/DVD combo - Page 11
Conclusion
Positive (+)

Negative (-)

24/12/24/8x CDRW/DVD combo drive
USB 2.0/1.1 supported interface
Small dimensions, light weight
Fast CD-R/RW/DVD-ROM reading
Low CD/DVD seek times
Supports DVD-R/RW, +R/RW, DVD-ROM formats
Good error correction performance with DVD discs
Good writing quality
24x maximum DAE speed
Overburning up to 99min
Supports CD-Text (reading/writing)
Supports 99min discs

Incomplete retail package
Delicate CD tray
Average CD-R error correction capabilities
Low DVD-Video ripping speed
Does not support audio protected discs
Cannot create working SafeDisc v.2 backups
Z-CLV implementation leads to increased recording times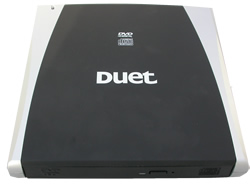 Duet LSC-24081 is a fast portable CD-RW/DVD-ROM combo drive, supporting fast and easy installation through the USB 2.0 interface. It is lightweight and of small dimensions.
The retail package could be better, since it does not include any blank CD-R or HS-RW media, or any DVD player software. Recording and packet writing applications are included, however, along with manuals and installation drivers.
As we said the small dimensions and the low weight of the drive make it a very handy solution for attaching it to your notebook or on your PC itself. What could be improved is the delicate structure of the CD tray, and the response of the eject button.
The Duet LSC-24081 supports the 24x Z-CLV maximum recording speed for the CD-R format. Our tests showed that the current implementation of the Z-CLV technology does not allow the drive to achieve the lowest writing times among the 24x category drives. However, the writing stability is very good and no writing problems occurred while writing on various media. In addition, the Jitter measurements on the recorded media showed a high writing quality. Overburning up to 99min is included among the advantages of the external drive.
In the reading part, the drive is fast and the reading speed reached the supported 24x, both using pressed and CD-R media. The seek times for the CD and DVD format is low, but the ability to correct possible faulty bits on defected and scratched media (Almedio Abex) could definitely be higher. The drive also retrieves C2 error information while reading.
The maximum supported DAE speed is 24x. The drive cannot handle Key2Audio and Cactus Data Shield 200 protected audio discs.
Reading of 96 bytes of SubChannel data is supported, as it is also the reading /writing of CD-Text on audio discs. In addition, the drive supports the 99min CDs.
CloneCD users will not be satisfied by the lack of the drive's ability to create working backups of the latest SafeDisc v.2 protected titles, although the reading speed is adequate.
As for the DVD format, the drive supports reading of DVD-ROM (single layer) at 8x CAV, and also supports reading of DVD-R/RW and DVD+R/RW discs at 4x-5x on the average. In addition, the DVD error correction tests with ABEX test media showed that the drive has no problems with scratched and defected DVD-ROM discs, giving accurate reading output. Ripping of DVD Video contents is a weakness of the drive, since it is very slow, giving an average ripping speed of 1.7x.
The suggested street price for Duet is about USD 180.