Duet CD-R2-U2 CD-RW/DVD COMBO
7. DAE Tests
Duet CD-R2-U2 slim CD-RW/DVD combo - Page 7
DAE Tests
- DAE features
EAC reports that the Duet drive supports caching of data, "Accurate Stream" and that it is not able to retrieve any "C2" error info.
- Pressed AudioCD results
In this test we examine the DAE speed of the drive. The Duet LSC-24081 ripped the audio files at an average of 17.5x. The ripping speed is not bad for a 24x reader. The Incoder drive is slower at 10x average reading.
- CDR AudioCD results
With CD-R media, the average ripping speed again is 17.5x.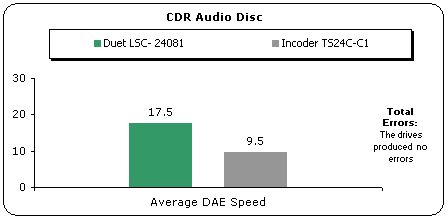 - EAC Secure Extract Ripping mode
EAC's "secure extract mode", ensures maximum produced WAV quality for ripping audio discs. Note that for each drive we used the build-in detection function:
Tested Drives
Average DAE Speed (X)
Pressed
CDR
Duet LSC-24081
2.5
2.6
INcoder TS24C-C1
9.6
9.7
The Duet drive was slow in this task, mainly because of the "Caching" feature supported by the drive. This affects the reading speed under the EAC "secure" ripping mode. The Incoder drive is faster in this task with a 9.6x ripping speed on pressed discs and 9.7x for recorded ones.
- Advanced DAE Quality
Duet LSC-24081 got a 100 score (perfect) in the Nero CD Speed Advanced DAE test. The CDSpeed showed that the average reading speed is 17.16x, and that the drive can also read SubChannel data and CD Text. On the other hand, the INcoder drive had some problems and it produced 7,050 data errors.
- Ripping of 99mins AudioCD's
| | |
| --- | --- |
| Tested drives | Ripping up to |
| Duet LSC-24081 | OK |
| INcoder TS24C-C1 | Up to 88min |
- Reading/Ripping Protected AudioCD's
For this test procedure we used 2 protected AudioCD's, which we tested in both recognition and ripping (using the respective EAC features):
* Pressed AudioCD with Sony Key2Audio (Celine Dion - New Day Has Come)
* Pressed AudioCD with Cactus Data Shield 200 (Natalie Imbruglia - White Lilies Island)
Key2Audio
CDS200
EAC
Duet LSC-24081
Cannot recognize disc
Recognizes disc contents but cannot rip them
INcoder TS24C-C1
Recognize disc contents, but rips the first 5 tracks only
Recognizes disc contents but not all files have high quality
Duet LSC-24081 is not a good solution to backup your Key2Audio and Cactus Data Shield 200 protected discs. The drive cannot recognize the Key2Audio discs at all , while in the case of the CDS200, it cannot again rip the disc contents, although they are recognized.