Crucial Releases First 32GB NVDIMM Offering
Crucial has released a new 32GB Nonvolatile DIMM (NVDIMM) to help companies preserve critical data in the event of a system power loss and limit downtime.
The first Crucial NVDIMM to operate at 2933 MT/s, the new module provides persistent memory performance while reducing the amount of NVDIMMs needed in a server.
The NVDIMMs are fusing memory with on-module NAND, which gives you near-instant access with data persistence. The NVDIMMs safeguard data during power loss, remove I/O bottlenecks that are holding your servers back, and increase the performance of server applications such as Big Data analytics, relational databases, storage appliances, virtual desktop infrastructure, and in-memory databases by utilizing the data needing fast access in memory.
Crucial NVDIMMs are also nonvolatile, which improves system data security. In the event of power loss, standard memory would lose all data in RAM, while an NVDIMM will retain it. If power is lost, the system controller sends a hardware signal to the NVDIMM to perform a backup operation. Then, the NVDIMM controller activates the power management circuitry, drawing power from the ultracapacitor and providing energy to the NVDIMM for the backup operation. The controller then manages the transfer of data from the DRAM into the onboard NAND. Once system power is restored, data is transferred from the NAND back to the DRAM. Crucial NVDIMMs are compatible with the latest 2.5 inch drive bay and HHHL PCIe AgigA Tech PowerGEM ultracapacitors, enabling continual power to up to four NVDIMMs during power loss until a backup is completed.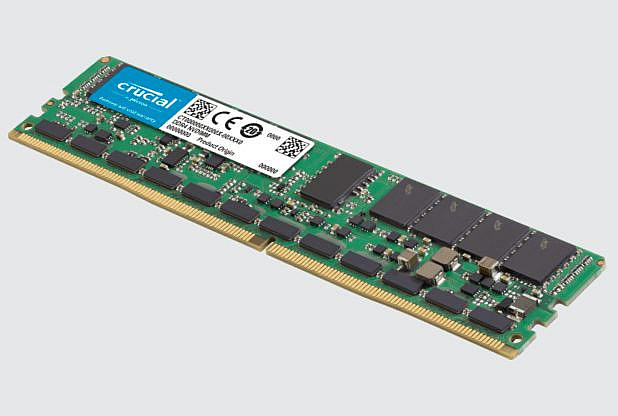 With module densities up to 32GB and speeds up to 2933 MT/s, Crucial NVDIMMs are compatible with OEM servers and warranties, and backed by the Reliance Programme. The program offers qualified customers up to four additional benefits through service call reimbursements, on-site spares, 24/7 technical support through Crucial's direct hotline, and special bulk shipping options.
The modules and compatible ultracapacitors are available for purchase through select global distributors. All Crucial memory is backed by a limited lifetime warranty.
Crucial NVDIMMs specs
Part Number


Module Type

Density

Speed

Module Bandwidth

Voltage


Firmware


CTA18ASF2G72XF1Z-2G6V21AB


NVDIMM 288-pin


16GB


2666MT/s


21.3GB/s


1.2V


JEDEC (v2.4)


CTA18ASF2G72XF1Z-2G9WP1AB


NVDIMM 288-pin


16GB


2933MT/s


23.4GB/s


1.2V

JEDEC

CTA36ASS4G72XF1Z-2G9PR1AB


NVDIMM 288-pin


32GB


2933MT/s


23.4GB/s


1.2V

JEDEC
AgigA Tech PowerGEM ultracapacitor
Part Number


Form Factor

Cables

Number of NVDIMMs supported


MTA001B32BA-001


HHHL PCIe


Cables sold separately


4x-8GB/4x-16GB/3x-32GB


MTA001A32BA-002


2.5-inch drive


Cables sold separately


4x-8GB/2x-16GB/2x-32GB

Cables
Part Number


Form Factor

Cable Length

MTA001B32BA-001


Cable only


355mm


MTA001A32BA-002


Cable only


750mm