CPU Coolers Roundup Jan 2011
3. Arctic Cooling Freezer 7 rev 2
| | |
| --- | --- |
| Manufacturer | Arctic Cooling |
| Model | |
| Price | $37 |
| Category | |
The Freezer 13 carries the legacy of the Freezer 7 Pro Rev.2 cooler, but it comes with two additional heatpipes (8 in total) and also brings 200 Watts cooling performance (130 Watt for the Freezer 7 Pro Rev.2) – enough to cool down every current CPU. It features wide compatibility with AMD and Intel sockets, the same simple mounting system as the Freezer 7 Pro Rev.2 and also a 92mm PWM controlled fan.
- Specifications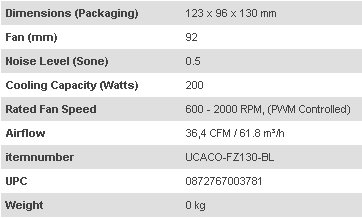 - Retail package
The Arctic Cooling Freezer 13 is packaged in a clear plastic container so that all sides of it can be seen. On the front, the black and white fan stands out through the packaging and the Arctic Cooling logo. Underneath the Freezer 13 text is a remark stating that this heatsink supports both AMD and Intel sockets. The left side of the package adds some more information, such as it being capable of 200 watts of cooling power, and lists more specific socket compatibilities. On the rear of the package there is information about noise levels, dimensions, weight, and other features.
The packaging is minimal and small. It includes the mounting hardware and an installation/owner's manual.
Standing 130mm tall, the Freezer 13 heatsink is equipped with a single 92mm PWM fan that rotates at 600-2000RPM. Commanded to with a PWM fan speed controller, the Freezer 13 heatsink ranges from moderately audible to nearly whisper quiet.
The raw heatsink itself is built around a familiar combination of four 6mm diameter copper heatpipes and densely stacked aluminum fins. It weighs about 695 grams in total, making it a relatively compact and light weight heatsink.
The Freezer 13 ships with a pre-applied patch of Arctic MX-4 thermal compound applied to the copper base plate and installs onto Intel socket 775/1155/1156/1366 and AMD socket 754/939/940/AM2/AM3 processors.
- Installation
The heatsink mounts to both Intel and AMD motherboards using the permanently affixed metal bracket that is integral with the base.
For Intel computer systems a the plastic heatsink mounting cage is installed onto the motherboard with little plastic retention clips, then screws passed through the heatsink's spring metal clip and engaged with the cage to apply mounting pressure. AMD computer systems make use of the AMD heatsink mounting bracket that ships with every motherboard, and simple set of L-brackets. In either case the motherboard does not have to be removed from the computer case: