2. The package
Corsair's VX550W Power Supply (CMPSU-550VX), costs around $96(+ shipping). The retail package follows the HX series design with different colours of course. The 5 years warranty logo on the package indicates Corsair's strong belief in this product: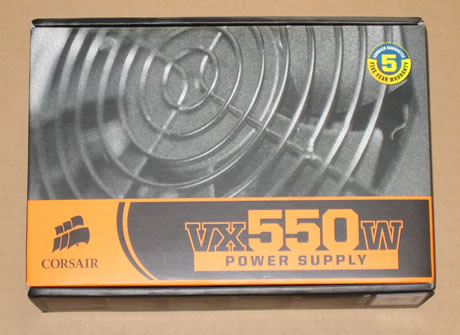 Let's open the box:
Inside the white cloth bag, there is a layer of bubble wrap surrounding the PSU itself. This protects it during transportation. Everything is well packaged and organized. Here is what you will find inside the box:
Corsair VX550W Power Supply unit
User Manual
AC Power cord
Cable ties
Mounting screws
Corsair case badge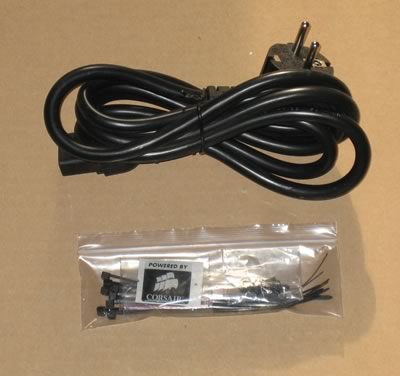 We can say that the retail box is complete, nothing important is missing. Let's proceed to the PSU itself. The size is typical for this category (150 x 140 x 86mm) and it's certified for the ATX v2.2 standard. The black finish looks and feels great. There are no sharp edges, so you won't be cutting yourself while installing it.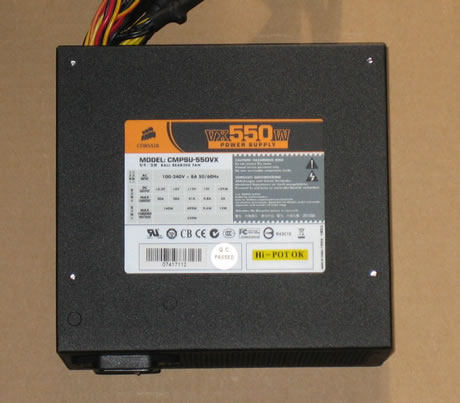 The rear of the PSU has a honeycomb design. This helps in airflow and lowering the PSU's internal temperature.
On the side, we find Corsair's logo along with the product name: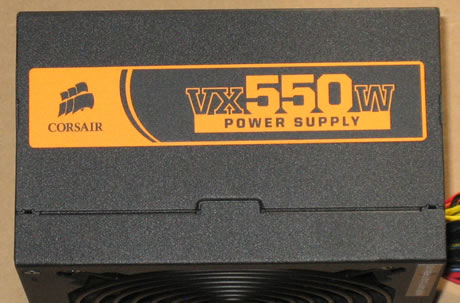 On the bottom, there is a 12cm fan with a protective grill:
All cables are attached to the unit, there are no detachable cables here. But remember this is a "low" cost power supply. The connectors are:
| Connectors Included | VX550W |
| --- | --- |
| ATX 24 pin & 20 pin compatible | x1 |
| EPS/ATX12V 8-4 pin | x1 |
| PCI-E 6 pin | x1 |
| PCI-E 6+2 pin | x1 |
| SATA | x6 |
| 4 pin Peripheral | x6 |
| Floppy | |
1 x 610mm (24") 24-pin ATX power connector cable. The ATX power connector has a detachable 4-pin mechanism in order to support either a 24-pin or a 20-pin socket on the motherboard.
1 x 610mm (24") 8-pin EPS12V connector cable. The EPS12V power connector has a detachable 4-pin mechanism in order to support either an 8-pin socket or a 4-pin "P4/12V" socket on the motherboard.
2 x 610mm (24") 6-pin PCI-E connector cable.
2 x 710mm (28") SATA connector cable with three SATA connector heads.
2 x 860mm (34") 4-pin peripheral power connector cable with three
connector heads and one small 4-pin for floppy drive.