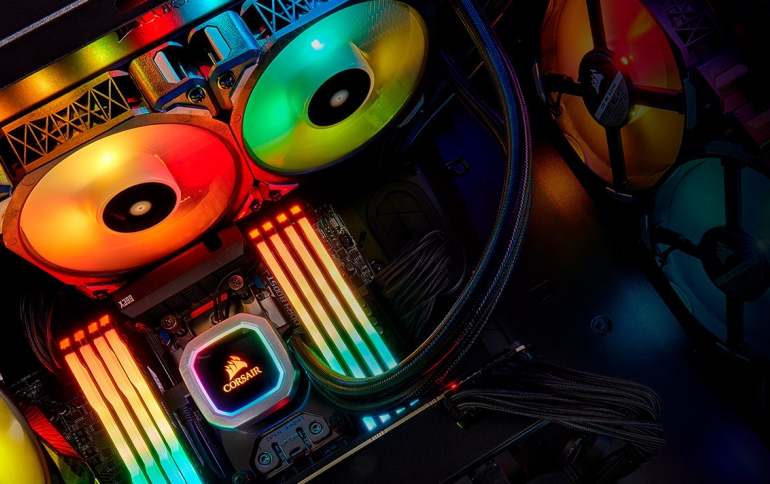 CORSAIR Hydro Series H100i and H115i RGB PLATINUM Liquid CPU Coolers Got the Look, Promise Chilling Performance
CORSAIR today launched the latest in its line of Hydro Series all-in-one liquid CPU coolers, the CORSAIR Hydro Series H100i RGB PLATINUM and CORSAIR Hydro Series H115i RGB PLATINUM.
The new pair of coolers promise to offer extreme cooling performance and RGB lighting across both the fans and pump head.
Each of the new entries in the Hydro Series range is cooled by a pair of CORSAIR ML PRO Series RGB magnetic levitation PWM fans, delivering airflow and high static pressure needed to cool today's hottest CPUs. Thanks to the ultra-low friction of their magnetic bearings, they also generate less noise than traditional bearing fans even when spinning at higher RPMs. The H100i RGB PLATINUM comes equipped with two 120mm fans and a 240mm radiator, while the H115i RGB PLATINUM is cooled by two 140mm fans and a 280mm radiator.
As the first Hydro Series coolers to feature customizable RGB lighting on both the fans and the pump head, the H100i and H115i RGB PLATINUM feature
16 individually addressable LEDs in the pump head and four in each fan combine for a total 24 RGB LEDs.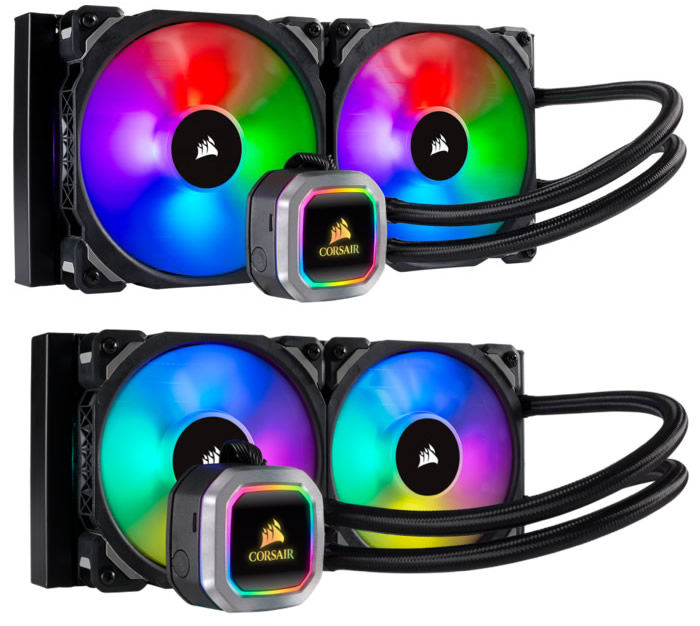 The coolers achieve their performance thanks to a thermally optimized copper cold plate and precise PWM control over the fans. The H100i RGB PLATINUM can be set between 400 and 2,400 RPM, while the H115i RGB PLATINUM ranges between 400 and 2,000 RPM. In addition, the low-noise pump design, combined with Zero RPM cooling profiles that can stop the fans entirely at low temperatures, results in quiet coolers that channel heat out of the CPU to the radiator without an excess of noise.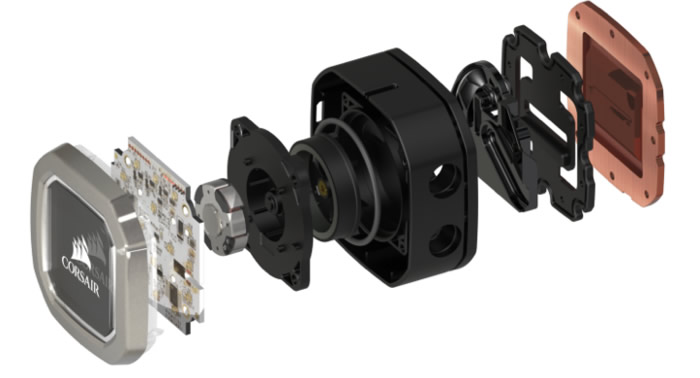 CORSAIR iCUE software brings everything together in a single interface for control over all of the H100i and H115i RGB PLATINUM's functions. iCUE allows users to directly control pump and fan speeds, creating custom cooling curves that automatically adjust based on a range of monitored system temperatures. iCUE also enables full customization of the Hydro Series RGB PLATINUM range's 24 RGB LEDs, allowing you to dynamically change your RGB lighting based on your CPU temperature, or create lighting patterns and effects, synchronized across all of your CORSAIR iCUE-compatible components and peripherals.
The CORSAIR Hydro Series H100i RGB PLATINUM and CORSAIR Hydro Series H115i RGB PLATINUM are available from the CORSAIR network of authorized retailers and distributors, as well as direct from the CORSAIR webstore.
Thet are backed by a five-year warranty. Pricing is set at £125 and £140, respectively, for the 240mm and 280mm units.
 
CORSAIR Hydro H100i RGB PLATINUM
CORSAIR Hydro H115i RGB PLATINUM
Warranty

Five years

Cold Plate Material

Copper

Radiator Material

Aluminum

PWM

Yes

CORSAIR LINK compatibility

Yes

Radiator Dimensions

277mm x 120mm x 27mm

322mm x 137mm x 27mm

Fan Dimensions

120mm x 25mm

140mm x 25mm

Fan Speed

2400 RPM

2000 RPM

Number of Fans

2

Cooling Socket support

Intel 115x, Intel 2011/2066, AMD AM3/AM2, AMD AM4, AMD sTR4

Lighting

RGB

Radiator Size

240mm

280mm

Fan Model

ML Series

Fan airflow

75 CFM

97 CFM

Noise level

37 dBA

Fan static pressure

4.2 mm-H2O

3.0 mm-H2O