1. Introduction
Corsair is the biggest memory module manufacturer world-wide, with a wide range of memory products for desktop, laptops, even special devices like game consoles. We have already tested some of their products which have always come with high grade memory modules of the finest quality. Most of the products we tested had similar heat spreaders to eliminate heating problems. At last year's CeBIT, it was the first time that we noticed - a different approach to heat spreaders in Corsair's PRO series. The idea is to incorporate a spreader that can also indicate memory usage, realtime. This is what Corsair has done with their latest 3500LL PRO memory modules.
We received the 2GB rank modules from Corsair (that is, 1GB per DIMM). Now some users might think that 2GB is too much for now and applications do not require that much memory yet. Although we would very much like to agree, this is not the case. Apart from the increase in performance in all programs and games, (some might consider this as a luxury), the long awaited Windows Vista will surely benefit from this memory capacity. Below, you can see a graph taken from Corsair, indicating the performance increase when going from 1GB to 2GB memory expansion.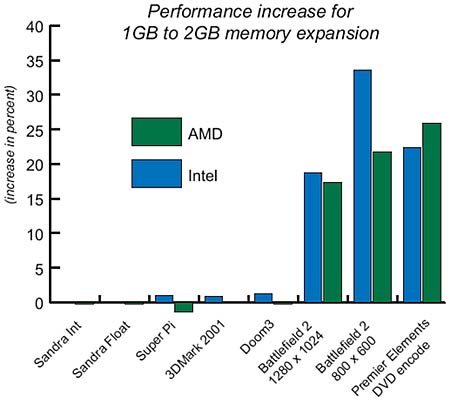 - A Closer Look
On the memory's label, you can see that the pack consists of two CMX1024-3500LLPRO DIMMs, with 2-3-2-6 timings. This memory is tested at 438MHz with a wide range of motherboards.
When ASUS co-operates with Corsair, only good products can result. Corsair claims that "these TwinX memory kits are designed to provide the ultimate in performance and stability in dual channel, AMD motherboards", and that "the 3500LL PRO memory is the best performing memory with ASUS' A8N32-SLI mainboard".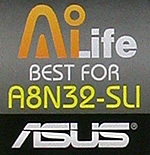 The heatspreaders used, are slightly bigger than the usual heatspreaders we have seen. Their actual size is 1.75" high / 5.41" long / 0.30" wide. Each module includes the high-efficiency aluminum XMS heatsink and 18 activity leds that show realtime memory activity of each bank. The leds are tri-colored with green indicating low memory usage, orange medium usage, and red high activity on the memory banks. Corsair promises 95% greater surface area than standard memory heatspreaders.
The packaging is the usual Corsair packaging.
- Specifications
Below you can see the table with all the specifications for the Corsair 3500LL PRO RAM modules.
| | |
| --- | --- |
| Product Name | 3500LL PRO |
| Package | 2048MB kit (2x1024MB) (dual pack) |
| CAS Latency | 2-3-2-6 |
| Test Voltage | 2.6V - 2.9V |
| Speed | DDR 437 MHz (PC3500) |
| Type | 2x 184-pin DDR SDRAM |
| Error Checking | Non-ECC |
| Registered/Unbuffered | Unbuffered |
| Manufacturer Warranty | lifetime warranty |