16. Conclusion
Connect 3D X850XT PE - 16 - Conclusion
The performance of the Connect3D X850XT PE is no doubt, excellent. The X850XT PE is rightfully the new flagship of ATi. It had no problems achieving great framerates in both benchmark applications and games, even with Anti-Aliasing and Anisotropic Filtering on. On the other hand, the card has no new exciting features to add to the graphics card market.
Right now, the Connect3D X850 XT PE costs around US$600. The cost compared to the US$500 you'd normally have to pay for an X800 XT PE (AGP version) seems too much as there is no real difference in performance between them to justify the cost. Maybe the plain X850 XT is better value for your money but still, the Platinum Edition version is the fastest product ATi has to offer and that tends to add a little to the card's price on the market.
Overclocking the X850 XT PE proved to be pointless. None of the benchmarks we ran showed any actual in-game difference as the card's clocks were already set at the highest level possible. The extra 20MHz we got on the core clock only increased the benchmark results by 1 to 3 fps.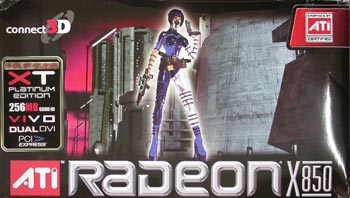 Pros:
-Excellent performance with most of the game tests.
-Reasonably quiet fan operation.
Cons:
-Very expensive
-No software bundle

| | |
| --- | --- |
| | |
| | |
| | |
| | |