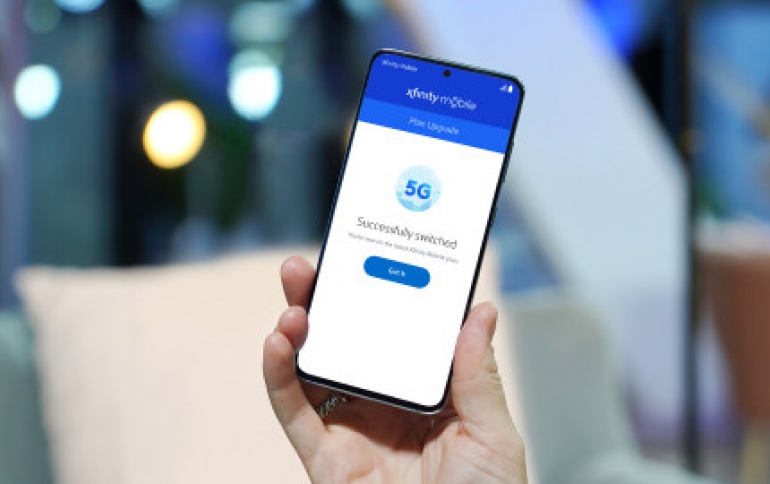 Comcast Introduces 5G Data Options For Xfinity Mobile
Xfinity Mobile is launching new data plans with 5G services included free.
The mobile provider offers 5G speeds across all new data plans at no additional charge. Further, it gives consumers the flexibility to modify their data plans throughout the month between 1GB, 3GB, 10GB or Unlimited, all now with 5G capabilities.
Xfinity Mobile customers already have access to the fast internet at home with Xfinity Internet service, and starting today, Xfinity Mobile customers can access 5G when they are ready to safely be out on the go. Existing Xfinity Mobile customers can opt-in to a 5G data option through the Xfinity Mobile app.
Xfinity Mobile relies on Verizon's network for service; its 5G plans will similarly rely on Verizon's own 5G network. Verizon's network only offers support for mmWave 5G, which has faster speeds than the sub-6GHz version of 5G but with less range. Other carriers like AT&T and T-Mobile offer a combination of mmWave and sub-6GHz 5G depending on the area.
Xfinity Mobile currently has two 5G phones on its network (the Samsung Galaxy S20 Plus and Samsung Galaxy S20 Ultra), and the company says additional devices will be added in the future.
Xfinity Mobile's 5G service is available in 34 major cities across the U.S., including Atlanta, Boston, Chicago, Denver, Detroit, Houston, Memphis, Miami, Minneapolis, Spokane, St. Paul, and Washington, D.C. with access to 5G to expand across the US in the future. Xfinity Mobile is available to Xfinity Internet customers and includes up to five lines of unlimited nationwide talk and text, no activation fees, and no phone line access fees.
New and current customers can choose from two straightforward 5G data options – "By the Gig" shared data starting at 1 GB for $15, 3 GB for $30 and 10 GB for $60, or Unlimited for $45 per month per line.