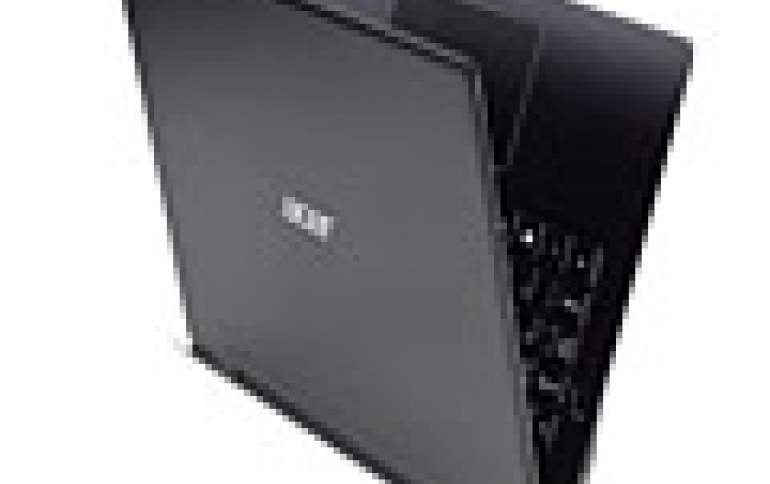 CES: Acer Launches Chromebook 11, Always-connected Swift 7 Laptop
Acer today introduced its new Chromebook 11 line that offers all-day battery life of up to 10 hours. The company also unveiled the upgraded Acer Nitro 5 laptop for gamers and the the new Swift 7 -a t just 8.98 mm thin.
The new Acer Chromebook 11 (CB311-8HT / CB311-8H) offers an 11.6-inch display in a portable and fanless design. It comes equiped with a two USB 3.1 Type C ports to connect your peripherals or charge your devices, and provides access to the Google ecosystem including Google Drive, Gmail, and a variety of Chrome apps and extensions. Also, the Acer Chromebook 11 will fully support Google Play at launch. Plus, the new Acer Chromebook 11 provides up to 10 hours of battery life on a single charge.
The Acer Chromebook 11is powered by the latest Intel Celeron processors. It comes with 4GB of memory, 16GB or 32GB of eMMC storage, a MicroSD card reader, two USB 3.0 ports and Bluetooth 4.2. Users can stay connected to their network with fast 2x2 MIMO 802.11ac Wi-Fi wireless connectivity.
The Acer Chromebook 11 has an 11.6-inch IPS display available in either touch (CB311-8HT) or non-touch (CB311-8H) models with 1366x768 resolution. The high-dynamic range (HDR) camera produces clear and brighter photos as well as video for Google Hangouts and webchats. The new Chromebook has also dual stereo speakers and an integrated microphone.
The Acer Chromebook 11 measures only 0.71 inches (18.15mm) thin and weighs 2.43 pounds (1.1kg).
Several models in the Acer Chromebook 11 line (CB311-8HT/ CB311-8H) will be available in North America in April with prices starting at $249, and in EMEA in March with prices starting at €249.
New Nitro 5 Gaming Laptop
Acer also announced its new Acer Nitro 5 gaming laptop, designed for casual gamers. Powered by Windows 10, the new 15-inch laptop packs in the latest-generation AMD Radeon RX560 graphics. Gamers will also benefit from the latest AMD Ryzen mobile processors. The Nitro 5's internal solid-state drive is available up to 512 GB. The fast speeds of DDR4 RAM of up to 32 GB combined with the SSD means fast booting, loading and restarting in mere seconds. While gaming, Acer's NitroSense utility allows the monitoring of the CPU/GPU, and adjustment of cooling fan speeds via Acer CoolBoost to keep them in optimal operation.
The Nitro 5's chassis features a top cover with laser texturing. a matte, crimson red hinge and a backlit keyboard. It has a 15.6-inch Full HD IPS display and a front-facing HD web camera. Users can also easily broadcast games live with Mixer, directly from the Game bar on Windows 10 by pressing the Windows key plus G.
To round out the gaming experience, Acer's Nitro 5 features high-quality speakers with Dolby Audio Premium and Acer TrueHarmony technology. In terms of connectivity, the Nitro 5 features all of the supporting technologies and connections the casual gamer needs: fast and reliable dual-stream 802.11ac wireless technology, a plethora of ports, including USB Type-C, HDMI 2.0, and Gigabit Ethernet.
The Acer Nitro 5 will be available in North America in April with prices starting at US$799; and in EMEA in April with prices starting at EUR1,099.
New Swift 7
Acer says that the new Swift 7 laptop is "the world's thinnest" at just 8.98 mm thin. It is an always-connected PC running Windows 10 that's designed for mobility, with an ultraportable design packing an Intel Core i7 processor, all-day battery life and 4G LTE connection powered by the
built-in Intel XMM 4G LTE modem.
In addition to a Nano SIM card slot, the Swift 7 features eSIM technology, allowing download and activation of eSIM profiles. The Swift 7 ships with a Transatel profile provisioned with up to 1 GB2 of free data valid for one month in 48 countries, while additional data plans can be purchased as needed through the Mobile Plans application while travelling around the world. 802.11ac wireless with 2x2 MIMO provides fast connections to the office or home network.
Powered by a 7th Gen Intel Core i7 processor, the Swift 7 provides performance, a Windows 10 experience and up to 10 hours of battery life. It offers 256 GB of PCIe SSD storage, while 8 GB of LPDDR3 memory keeps multitasking smooth. A fingerprint reader allows password-free and more secure sign-in through Windows Hello.
The Swift 7 has a unibody aluminum chassis. Its new high-resolution display has been upgraded to 14-inches, and sports a Full HD IPS display, Acer Color Intelligence, as well as a Corning Gorilla Glass NBT touchscreen and touchpad. Typing is also easy thanks to the Swift 7's backlit keyboard, which is handy in low-light conditions.
It will be available in North America in March with prices starting at US$1,699; and in EMEA in April with prices starting at EUR1,699.
Spin 3
Acer has also announced its refreshed Spin 3 (SP314-51) laptop, designed for all-day productivity and entertainment. The 14-inch laptop comes with a 360-degree dual-torque hinge to function as a laptop, tablet, display and even provides a space-saving tent mode, all in a single device.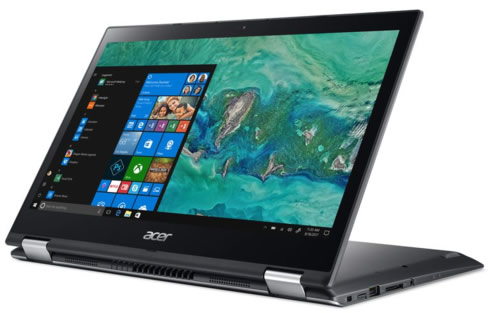 It is now equipped with a 8th Gen Intel Core processor and provides up to 12 hours of battery life. Other features include two front-facing speakers with Acer TrueHarmony technology.
The Spin 3's 14-inch display supports vivid imagery in Full HD with IPS technology.
The Acer Spin 3 will be available in North America in February with prices starting at US$599; and in EMEA in January with prices starting at EUR649.