CeBIT 08: AMD 780 Series Gives Mainstream PCs an Innovation Overhaul
AMD today announced the availability the company's most advanced motherboard GPU, the AMD 780 Series, delivering a rich computing experience for gamers and multimedia enthusiasts.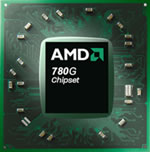 AMD claims that when paired with an AMD Phenom 9000 series quad-core processor or Athlon 64 X2 dual-core processor, the AMD 780 Series delivers significant enhancements in gaming and high-definition experiences for mainstream PC customers. The AMD 780 Series motherboard GPU is scheduled to be widely available from AMD partners at launch. Global OEMs are expected to offer AMD 780 Series-based PCs starting in Q2 2008. AMD expects the motherboards using the AMD chipsets to cost about $80 to $120, less than motherboards using integrated graphics from rival Intel .
The AMD 780 Series motherboard GPU is a core platform component for both the AMD desktop PC platform codenamed "Cartwheel" and AMD notebook PC platform codenamed "Puma" which are both scheduled to launch in Q2 2008.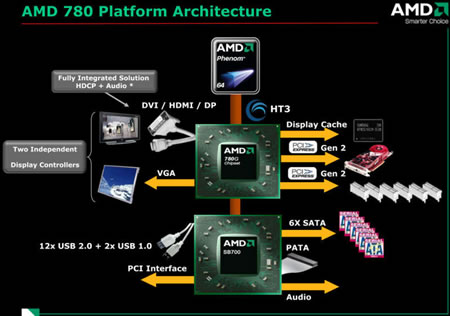 "The launch of the AMD 780 Series marks an uncommonly large step forward in mainstream PC capabilities. Starting today, consumers can attain superior HD video and casual 3D gaming experiences, as well as remarkable energy efficiency," said Phil Eisler, corporate vice president and general manager, AMD Chipset Division. "The release of the AMD 780 Series is in keeping with the AMD vision that computing can deliver The Ultimate Visual Experience and now at mainstream PC price points."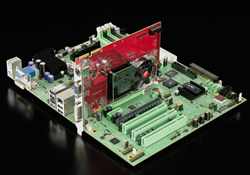 AMD's first chipset that offers DirectX 10 game compatibility promises to offer casual gamers enhanced game performance, lifelike 3D graphics and dynamic interactivity in the latest game titles. Gamers looking to scale their performance with the addition of a discrete graphics card can achieve superior performance with ATI Hybrid Graphics Technology. This technology harnesses the graphics power of both a discrete graphics card and the motherboard GPU in tandem, delivering in some applications up to 70 percent improvements in 3D performance. In addition, the AMD 780G chipset is the second generation AMD chipset to feature AMD Overdrive, a simple user interface that brings performance tuning to the masses.
The AMD 780G chipset also brings a full HD experience with support for the latest formats, including VC-1, MPEG-2 and H.264 to the mainstream PC. Featuring the AMD Unified Video Decoder (UVD), it directs HD playback to the better-suited GPU rather than to the CPU so consumers may enjoy a smooth HD viewing experience?no lag, stalling or dropped scenes?in the latest HD-DVD and Blu-ray titles. As a cool and quiet solution, AMD 780G-powered PCs may be placed in the living room as part of a home theater. In addition, PCs built around the AMD 780G can give consumers flexibility with a broad range of video interfaces, including DisplayPort, DVI and HDMI, and with support for AMD Surroundview consumers may connect to multiple monitors.
Manufactured using the 55nm process technology, the AMD 780 Series motherboard GPU also delivers optimal power management both in idle, or when playing Blu-ray movies.
Below you can see a comparison between AMD's new 780G and the company's previous AMD 690G chipset.
AMD 780G

AMD 690G

HyperTransport Link

HT3.0

HT2.0

Graphics core

Radeon HD 3200
(DirectX 10/Shader Model 4.0)

Radeon X1250
(DirectX 9.0/Shader Model 2.0)

Shader units

Integrated shaders: 40

Pixel shaders: 4


Video reproduction

Avivo HD (with UVD)

Avivo

Display outputs

D-Sub 15 pin/DisplayPort/HDMI/DVI

D-Sub 15 pin/HDMI/DVI/TV output

PCI Express

PCI Express 2.0

PCI Express

Southbridge

SB700

SB600

USB

USB 2.0×12/USB 1.1×2

USB 2.0×10

SATA

x6 (RAID0/1/10)

x4 ( RAID0/1/10)

IDE

x1

PCI

x6
AMD Demos 45nm Native Quad-Core Processors
AMD also demonstrated at the CeBit exhibition its first 45nm quad-core chips running multiple operating systems and a range of processing intensive applications. The processors were produced in Dresden, Germany, in AMD?s Fab 36 300mm manufacturing facility, using a 45nm process co-developed with IBM.
AMD 45nm transistors are engineered to enable greater performance-per-watt capabilities in AMD processors and platforms. AMD combines new processes and materials with leading edge technologies, such as immersion lithography and AMD?s fourth-generation strained silicon.
The first 45nm chips demonstrated by AMD include the "Shanghai" product for server and "Deneb" for desktop platforms. Both are expected later this year.