Can Windows Mixed Reality Headsets Make a Splash in the Market?
Microsoft is rolling out Windows 10 Fall Creators Update on 17 October to support a new range of upcoming PC-based virtual reality (VR) headsets announced today, based on the Windows Mixed Reality (MR) platform.
Today, in San Francisco Micrrosoft unveiled a Windows Mixed Reality headset from Samsung, the Samsung HMD Odyssey, which joins the family of Windows Mixed Reality headsets.
The Samsung HMD Odyssey features Dual AMOLED high-resolution displays, a 110-degree field of view, built-in premium AKG headphones, and built-in 6 DOF inside-out position tracking. Motion controllers bundled with the device offerfreedom of movement and let you interact in a natural way so you can pick up items, use weapons, and control other characters. They also feature haptic feedback, thumbsticks, and button control, so you can navigate around every game.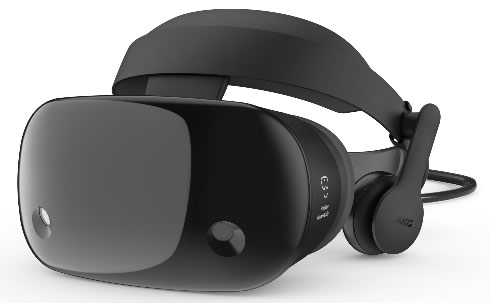 Device Specifications
Resolution: 2880 x 1600
Display: OLED
Refresh rate: Up to 90Hz
Field of view: Up to 110˚
Headphones and dual array mics

Priced at $499, the device ispriis available for pre-order today with availability on November 6.
Acer will offer their Windows Mixed Reality Headset with motion controllers. When the headset is paired with the controllers, you can take advantage of the full position and rotational tracking in the headset to create content or play games.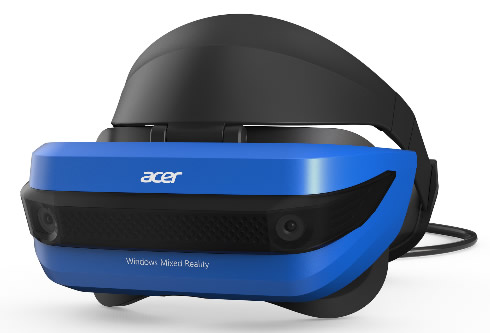 Device Specifications
Two high-resolution liquid crystal displays at 1440 x 1440
2.89" diagonal display size (x2)
Front hinged display, so you can flip the headset up while working
Up to 105 degrees horizontal field of view
Display refresh rate up to 90 Hz (native)
Built-in audio out and microphone support through 3.5mm jack
Single cable with HDMI 2.0 (display) and USB 3.0 (data) for connectivity
Inside-out tracking
4.00m cable
Acer's device costs $399 and will be available on October 17.
The headsets from Acer, Dell, HP and Lenovo share the same specs listed above.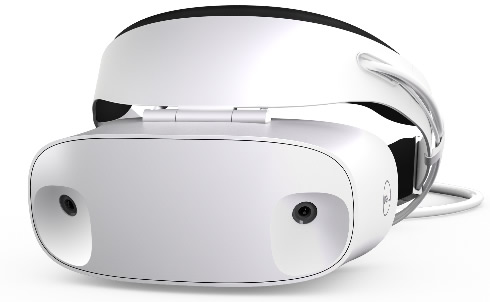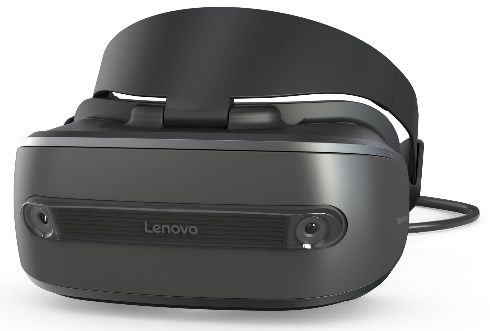 The Dell Visor features high resolution 1440 x 1440 LCD panels for a 360° panoramic experience for an "as-if-you-are-there" view. It's engineered for comfort and convenience with well-cushioned head and face padding that allow for comfortable wear, even for people who wear glasses. Availabile on October 17, the Dell Visor costs $499.
The $449.00 HP Windows Mixed Reality headset, also released October 17, will be bundled with motion controllers.
The $399 Lenovo Explorer headset is ergonomically designed and optimized for comfort. It tracks your movements with fidelity and spatial awareness so you can move around naturally in an area of 3.5 by 3.5 meters (about 11.5 by 11.5 feet) without constantly reorienting yourself. No external sensors are needed, which means you can set it up by simply connecting a cable to your PC.

Mixed reality on Windows PCs all begins with the upcoming release of the Windows 10 Fall Creators Update.
Microsoft promised that on October 17, Windows Mixed Reality fans will be able to enjoy the more than 20,000 apps in the Microsoft Store. Popular VR games are coming to the Microsoft Store and Windows Mixed Reality - titles like Obduction, Dreams of Dali, Space Pirate Trainer, Superhot, Arizona Sunshine, Luna, Skyworld, Move, Free the Night, Minecraft, Fantastic Contraption, and more will take advantage of the Universal Windows Platform.
Last month Microsoft shared that we are working with Valve to run SteamVR content on Windows Mixed Reality immersive headsets. Starting today, developers will be provided access to the Windows Mixed Reality SteamVR preview so they can try out their experiences.
Also on October 17, Halo fans will be able to get their first glimpse of what mixed reality and Halo can feel like.
Microsoft also welcomed the team at AltspaceVR to Microsoft. AltspaceVR is one of the pioneers in immersive communications bringing people together in virtual reality from over 160 countries to attend meetups, comedy shows, yoga classes, dance parties, and large-scale events hosted by NBC, Reggie Watts, Justin Roiland, Drew Carey and more.
Mixed reality on Windows PCs all begins with the upcoming release of the Windows 10 Fall Creators Update.
Thoughts on Windows Mixed Reality concept
The new Windows MR headsets have a number of advantages over other PC-based competition, including HTC Vive and Oculus Rift. One obvious benefit is cheaper pricing - Windows MR headsets bundled with Windows MR controllers are up to $100 less expensive than the Rift headset, and $200 lower than the Vive - which will broaden the appeal of PC VR headsets over time.
The headsets also use inside-out tracking technology to remove the need for external sensors or light emitters, making it a simpler setup for consumers. Beyond these factors, the new VR headsets are being built by the biggest Windows OEMs, which will have access to established sales and marketing capabilities as they make a push to expose consumers to the new products.
On the negative side, the Windows MR branding appears potentially confusing to consumers, considering that these headsets are purely VR in capability. Additionally, while Microsoft has announced a low minimum specification for PCs to support the new headsets, consumers will still need to have powerful gaming PCs if they wish to play and interact with high-end content.
Another key differentiating factor is that the standard Windows MR headsets use LCD displays, which are considered to be less suitable for VR applications because of the lack of low persistence, the more limited viewing angle and contrast compared to OLED technology. OLED displays are used in both the Rift and Vive headsets. Significantly, Samsung's upcoming premium Windows MR headset will use OLED displays and have built in audio but also be launched at the same price point as the Oculus Rift: $499.
Nonetheless, Microsoft can count on an important victory in as much as one major weakness - content - has been substantially overcome with the announcement that Windows MR headsets will support Steam VR, with potential access to the biggest catalogue of PC-based VR titles.
Even with these advantages, the PC-based consumer VR market remains relatively niche due to the cost of entry and the overall lack of compelling content. IHS Markit expects PC-based VR headsets to experience slow growth in sales volume over the next few years and predicts that Windows MR headsets will go on to sell 280,000 by the end of 2017.
Microsoft's entry into the platform market for augmented reality (AR) and VR devices is an extension of its operating system strategy.
"It would rather act as the underlying platform of future AR and VR headsets than compete with a proprietary verticalized strategy that locks out existing Windows hardware partners. If AR and VR solutions go on to become ubiquitous technology, this open approach makes sense in the face of competition from Apple and Google," comments Piers Harding-Rolls Analysis Director at IHS Markit.
Microsoft has been relatively quick to act in this emerging market by building a reference design for a VR headset and then giving access to this design as well as its tracking technology to its Windows OEM partners. The company has also helped seed the wearable AR market with its HoloLens technology.
"Microsoft does not want a repeat of its unsuccessful foray into the mobile market, where it has been effectively locked out by the dominant success of Apple's iOS and Google's Android. These new technologies, however, represent an opportunity for Microsoft to get back in the game," IHS analyst added.
To be sure, 2017 has seen major plays from both Apple and Google in terms of immersive computing platforms. Apple's ARKit support in iOS 11 has immediately catapulted the company into a leading position in smart device AR, and Google has responded with its own ARCore AR platform alongside an established VR strategy through its Cardboard and Daydream initiatives.
Although Google refers to a spectrum of immersive computing technologies, Microsoft Mixed Reality is currently better integrated across both AR and VR, which is an advantage as a platform strategy.