Bing Gets 'Visual Search'
Microsoft on Monday unveiled 'Visual Search', a new feature which allows Web surfers to search using image galleries instead of text links. Microsoft, which teamed up with Yahoo! in July in a bid to challenge Internet search giant Google, rolled out a test, version of the feature at the TechCrunch50 technology conference in San Francisco.
"Visual Search is a new way to formulate and refine your search queries through imagery, particularly for sets of results that tend to be more structured," Microsoft said.
"We call these data groupings galleries. Visual Search allows you to quickly scroll through the galleries or do a one-click refinement using the quick tabs on the left, which are specifically relevant to the type of results you are browsing through," the company added.
Users can visit www.bing.com/visualsearch and install Silverlight in order to see what the visual search is all about. A study conducted by Microsoft Research showed that consumers could process results with images 20% faster than text only results. Microsoft wrote at the company's blog.
The feature currently offers galleries in nearly 50 categories from consumer products to travel destinations to movies to music.
A search at bing.com/visualsearch for "cars," for example, returns a gallery of thumbnail pictures of cars which can then be filtered by manufacturer or by price, displaying a new set of images.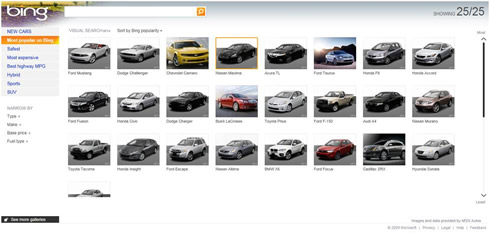 Hovering over a particular image or clicking on it will provide information about that particular product and the images rearrange themselves on the page as a search query is refined.
Microsoft's is trying to gain a market share from Google. after the company's tie-up with Yahoo last July. According to the agreement, Yahoo uses the Bing search engine on its sites and handle Web ad sales.