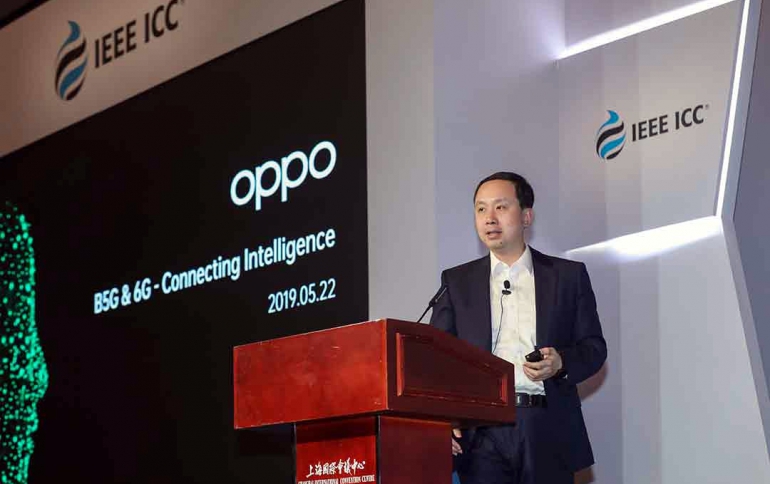 Beyond 5G: OPPO and ZTE Preview Vision for 6G
OPPO and ZTE have laid out their visions for a future of connected intelligence this week at the 53rd IEEE International Conference on Communications (ICC), held in Shanghai from May 20th to 24th.
Henry Tang, Director of Standards Research and Chief 5G Scientist at OPPO, delivered a keynote speech at the conference underscoring OPPO's commitment to driving future generations of connectivity. In his speech, titled B5G (Beyond 5G) & 6G:Connecting Intelligence, Tang offered a preview of a future where, "after the launch of 5G, as AI and telecommunications technologies continue to empower and improve each other, they will enable true interconnectivity between humans, things and intelligence."
Tang shared OPPO's outlook and vision for the evolution of an "intelligence era" through next-generation connectivity. Tang described this evolution of connected intelligence - from 5G to B5G to 6G - as a system "for the AI, by the AI and of the AI", and a transformation which will dramatically change the way we live and work.
In the short-term - the "for the AI" stage - 5G is enabling new connections between humans and things that can be leveraged to bolster a range of existing vertical applications like consumer IoT, enterprise IoT and HD video. At the same time, the adoption of AI businesses like autonomous driving, AR and VR is poised to accelerate. In the face of autonomous driving, ubiquitous reality and other AI applications with high requirements for computational power, storage and low-latency, 5G opens up real-time, high-speed channels to realize capabilities like "cloud perception, cloud learning and cloud collaboration".
In the future, Tang envisions a world that is shared by human users and intelligent agents, with B5G and 6G as key enablers of "Human-Thing-Intelligence" interconnectivity. As technologies evolve, at the next stage – "by the AI"- the goal is to enhance the 5G system by introducing AI capabilities like neural networks and machine learning. The implementation of AI will address imperfections and inaccuracies in existing wireless telecommunications theories, making the 5G ecosystem faster, more delicate and more efficient in order to meet the increasing demands on network performance.
Looking into the more distant '6G era', Tang explained that more and more businesses will be run largely without human intervention. In this intelligent future, scenarios in which machines and AI directly interface will also increase, thereby creating demand for swarming system, whose capacities are greater than those of its individual agents. Henry Tang called that "collective intelligence". One new business model that will emerge during this "of the AI" stage will address the intelligent connections between smart devices. Apart from traditional data such as media data, sensor data, and control data, a new type of data that will occupy the 6G network will be AI-driven "smart" transmissions, which means devices will be capable of sharing and conveying AI messages among themselves. As we are currently experiencing with 5G, 6G technologies will again need to overcome a series of challenges to boost performance, such as dramatically improving speed, latency, reliability, coverage, energy efficiency, connection density, accuracy and security. "With the iterative evolution of technologies, the whole of human society - and indeed the world around us - will realize an unprecedented level of interconnectivity. We at OPPO welcome and embrace this exciting new opportunity to help usher in a new era of connected intelligence," Tang said.
Yuan Yifei, Chief Engineer of Wireless Standards at ZTE, introduced new services and requirements of B5G, as well as several potential enabling technologies. Yuan thinks that B5G or 6G networks should provide ultra-fast rate (e.g., 1Tb/s), ultra high density of data (e.g., 100 Gbps/m2), and ultra low latency (e.g., < 10 us), to facilitate the information exchange and coordinated computing between highly intelligent objects. Yuan believes that in the future, the smart phones will become wearable and even implantable devices so that information can be collected directly from sensory organs.
The 6G network will become a fully integrated network providing communication, computing, control, positioning and sensing services. Therefore, 6G requires the redefinition of fundamental technologies, network architecture and devices. The 6G research will focus on TeraHz communication, HoloRadio and edge artificial intelligence.
"The current AI/ML implementation for wireless networking is only the beginning. By means of further theoretical backing and architecture implementation, AI/ML will have a great influence on the telecommunications industry." Said Wang Xinhui, ZTE CTO Assistant in Standards & Industry Relation. "AI/ML will greatly reduce network deployment time, achieve rapid self-healing and improve network O&M efficiency."
ZTE has initiated the B5G and 6G research by studying 6G network architecture, new spectrum, new Radio as well as 6G integration with artificial intelligence and block chain.