The benefits of owning an internet phone number
Internet phone numbers are a growing sensation in the business world for business communications. As the name suggests, it requires an internet connection to make internet calls. It is a cutting-edge service that removes the monopoly of traditional telephone numbers.
Now companies that have operations in multiple countries or high call traffic can utilize internet phone numbers to reduce the load of phone calls. It has drastically widened the scope of the communications sector. It reduces calling charges for both the company and its customers. This is one of many perks of owning that number. In this article, we will talk about some more benefits of owning an internet phone number and how to get one for yourself.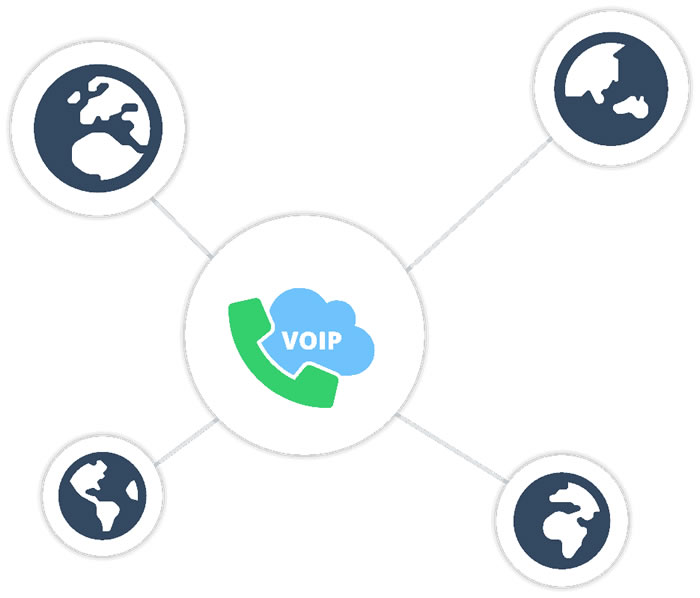 What is an internet phone number?
An internet phone number is commonly known as a virtual phone number. It uses VoIP technology for internet calling. The audio data is transmitted digitally via the internet from source to destination and vice versa. When you make an internet call, your voice is converted into digital signals that are compressed into small data packets and finally transmitted via the internet. The data packets are uncompressed on the receiving end into standard audio.
This is a useful form of communication for industries that need to make a lot of calls. It is laced with a wide range of functions like call routing, call forwarding, call conference, voicemails, call greetings, etc.
Is an internet phone number free?
Some VoIP service providers give you free internet phone numbers by signing into their platform. After that, you will need to purchase credit minutes and subscription plans to make phone calls. But most of the time, VoIP service providers ask you to buy numbers from the get-go. Generally, the calling charges are low for international calls.
What are the benefits of an internet phone number?
An internet phone number may seem like a regular phone number but it is better than regular phone numbers. Especially to businesses that rely heavily on phone calls, it is more beneficial to use a phone number that needs an internet connection to make calls. Let's learn about some of its benefits.
6 benefits of an internet phone number
Cheaper cost
Compared to the standard phone numbers from your local network carrier, internet phone numbers are a lot cheaper. It assists businesses in cutting costs of physical infrastructure, international calling charges, support, and maintenance. The monthly expenses of phone calls get unbelievably low for call centers. Virtual cloud phone systems like KrispCall cost only USD 15$ per month, which is a very cheap price to pay.
Easy to use
You can easily use an internet phone number via a desktop application, web application, or mobile app. The number dialing process is similar to how you dial numbers on regular phones. To spill the fact, the interactive user interface of the applications gives users a seamless experience while making phone calls.
Advanced features
An Internet phone number allows you to use a wide range of VoIP services. For business communications, you can take advantage of advanced features like call forwarding, intelligent call routing, SMS, video conferencing, auto-dialer, etc. Using these features, you can create a virtual working environment.
Strong security
VoIP service providers give strong end-to-end encryptions to an internet phone number for making phone calls. It prevents unauthorized users from accessing its software by associating a security profile with the number. You can block spam calls or robocalls using the call blocking feature.
Privacy
You can use an internet phone number to make your personal phone number entirely private. If you don't want people to get your private number, you can give them your internet phone number. This can come in handy in many situations like in business, social networking websites, etc. Also, it will help you minimize spam calls.
Remote access
An Internet phone number allows you to roam free in any location and still be connected to your business phone. You can easily handle your business communications from any location at any time. All you need is an active internet connection on your device. In remote locations with no cell towers, a virtual phone number is an ideal option to enjoy good call quality.
How to get an internet phone number?
Getting an internet phone number is a very simple process. It's ten times easier than buying a sim card from your local phone network providers. But you can easily get yourself an internet phone number online at your convenient time laying in your convenient place.
There are hundreds of VoIP service providers on the internet from where you can buy internet phone numbers from different countries. So the best way to get your hands on one of them is to purchase one from a virtual cloud phone system. To make things easier for you, we have enlisted the following four simple steps that will help you to get an internet phone number.
Find a virtual cloud phone system
Nowadays, there is huge competition in the market for internet phone numbers. There are different kinds of virtual cloud phone systems that offer virtual phone numbers at exciting prices. But not all of them give the same quality of services. So, it is extremely necessary to research them before choosing one for yourself. Don't worry, it is super easy to research. There are a few things you need to check that are:
Good public review
Advanced features and solutions
Proper customer support
Interactive user interface
Affordable subscription plans
Having a good virtual cloud phone system really matters to experience the best services while using a virtual phone number. Especially for companies that highly depend on phone calls, you have to choose a top-class platform. To make things easier for you, here is the list of Top 10 business phone services to get your internet phone number.
Select a type of internet phone number
Different virtual cloud phone systems offer you different types of internet phone numbers. Each type is built to serve a different purpose. If you are having trouble selecting a type, ask yourself why you wanted a virtual phone number in the first place. Usually, you will find the following types in the market.
National number
Virtual cloud phone systems provide country-based internet phone numbers known as national phone numbers. People can call this number at a local rate from anywhere in the country. Getting a national phone number is a smart option if you wish to conduct business within the country. It assists businesses in creating a national presence and improves their reputation in that country.
Local number
The primary goal of a local phone number is to assist companies in localizing their business. The number starts with the special area code for a city, region, or state. It creates a local presence in that area such that locals getting the call from that number are more likely to pick or dial the number. They prefer to support small companies that are growing in their communities.
Toll-free number
The toll-free number does not cost charges on callers. Usually, toll-free numbers begin with 800 or 888. People can make free phone calls from their landline or mobile phones. This is an excellent method for increasing the likelihood of converting a potential consumer into a paying customer. Companies must, however, pay for both incoming and outgoing calls, which is a small price to pay to spread the business.
Mobile Number
There are internet phone numbers that resemble the look of a real mobile phone number. Typically, mobile numbers are often registered by a mobile network. It serves as a personal phone number that you may carry around with you at all times. You can get a mobile phone number from a virtual cloud phone system. This makes it appear as if your customer is calling you on your personal phone line.
Choose an internet phone number
You will come across thousands of phone numbers in the virtual cloud phone system. Just like shopping, you can search for a number and make a purchase. A number should be easy to remember, especially for a business. An internet phone number plays a vital role in growing your business as it assists in showcasing the brand's personality. Here are a few ways to choose an ideal number for yourself.
Filter an internet phone number from the list
All the virtual cloud phone systems provide a list of internet phone numbers. Go through the list and find a number that you want to use, and make the purchase. Some systems have settings that enable you to filter specific numbers that you want. Whichever number you choose, it should sound catchy.
Make a custom internet phone number
Virtual cloud phone systems allow you to create a custom phone number of your liking. All you need to do is contact the sales team of the system and ask for the number you want. Remember, the sequence of your custom phone number should be simple and easy. If you have a special number in add, then feel free to add it to your number. This process is not that difficult. You will always query the sales team for suggestions.
Turn your existing phone number to internet phone number
You can easily migrate the platform if you want to use your existing phone number as your internet phone number. Virtual cloud phone systems have a feature known as number porting, which enables you to move your existing phone number to their platform. Replacing a phone number is both costly and difficult for businesses. Companies will have to spend a good chunk of money reprinting your documents, signboards, and brochure. There is a risk of losing your existing customers if they don't get your new number.
Purchase a subscription plan
A virtual cloud phone system offers different subscription plans. Each plan is different in terms of features and services they provide. The more features and services included in the plan, the more expensive the package will get. You should purchase a plan which consists of all the essential features and services you need.
You can either choose a monthly subscription or an annual subscription. Generally, annual subscription costs are about 10% cheaper on average than monthly subscription costs. If you want to use the internet phone number for a long term, choosing a yearly subscription package would be a good idea.