ASUS RoG GT51CA Desktop - For Serious Gamers Only
ASUS Republic of Gamers (ROG) announced GT51CA, a powerful gaming desktop powered by a 6th-generation Intel Core i7 processor, with Turbo Gear for one-click full-core CPU overclocking to 4.6 GHz without having to reboot. In addition, ROG GT51CA supports up to NVIDIA GeForce GTX Titan X graphics with 2-Way SLI for 4K UHD gaming at over 60 frames per second. It also features up to two 512 GB NVMe PCIe RAID 0 SSDs for data access speeds of up to 3.2 Gbps. ROG GT51CA's DDR4 2133 MHz memory has been even overclocked to 2800 MHz.ROG GT51CA delivers efficient heat management for stable gaming sessions. It features the liquid-cooled Hydro Overclocking System for the CPU and dedicated air channels to draw cool air into the chassis for the graphics card. In addition, its power supply unit - situated in the bottom corner of the chassis - also has its own isolated airflow design for cooling.
ROG GT51CA has an aerodynamic-inspired design with sharp-angled polygonal edges and a fully-functional turbine-like air intake on its front panel. The latter features a pulse-width modulation (PWM) fan that draws air into the cooling system.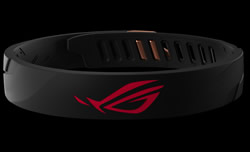 Dynamic 8-million-color LED effects in 4 zones are available across its chassis, and a preset OC lighting mode is activated whenever the system is overclocked.
All the buttons, audio jacks, ports including two USB 3.1 (Type-A and Type-C) ports, and the optical drive are streamlined in design and easily accessible. For the audiophile gamer, the audio jack on the front connects to an ESS Sabre headphone DAC (digital-to-analog converter) with an amplifier that delivers high dynamic range (DNR).
A new innovation is the wearable ROG BAND, allowing you to activate an overclocking mode or access Shadow Drive which is a hidden hard drive space exclusive for personal data.
Processor

Intel Core i7-6700K (OC to 4.6GHz)
Intel Core i5-6600K (OC to 4.3GHz)

Chipset

Intel Z170

Operating system

Windows 10 Home

Graphics

NVIDIA GeForce GTX TITAN X 12GB GDDR5 (SLI)
NVIDIA GeForce GTX TITAN X 12GB GDDR5
NVIDIA GeForce GTX 980 4GB GDDR5 (SLI)
NVIDIA GeForce GTX 980 4GB GDDR5
NVIDIA GeForce GTX 970 4GB GDDR5

Storage

UP to 3TB HDD (7200rpm)
M.2 PCIe Gen3 x4 (RAID 0) - 512GB x 2
256GB M.2 SATA SSD
512GB M.2 PCIe SSD
3.5in x 5 extension bay for additional HDD/SSD

Memory

64GB DDR4 RAM at 2133MHz (Overclocked to 2800MHz)
16GB up to 64GB DDR4 RAM at 2133MHz (Overclocked to 2400MHz)

Optical drive

Slimtray Super Multi DVD burner
Slimtray Blu-ray Combo

Wireless

Dual-band 2x2 802.11ac Wi-Fi (Optional)
Bluetooth 4.1 (Optional)
NFC (Optional)

Expansion slots

3 x PCIe x16
3 x PCIe x1
4 x DDR4 Long-DIMM Slot

Front I/O

2 x USB 3.1 (Type-A x 1/ Type-C x 1 w/ Quick charge)
2 x USB 3.0
1 x Headphone (Hi-Fi Audio)
1 x Microphone

Rear I/O

6 x USB 3.0
2 x USB 2.0
1 x PS2
1 x RJ45 LAN
1 x 7.1 Channel Audio

Lighting

8-million-color LED effects across 4 zones

Audio

ESS Hi-Fi-grade audio (DAC + amplifier)
7.1-channel
ROG AudioWizard

Gaming center

ASUS Aegis II app

Size

26.2 x 58.4 x 58.7cm (WxDxH)

Weight

27kg