ASUS Reveals Intel 7 Series-Based Motherboards, Hardware Solutions at CeBIT 2012
ASUS brings to CeBIT 2012 its new series of Intel 7 motherboards along with new graphics cards, LED projectors and Blu-ray drives at CeBIT 2012. ASUS' new motherboards based on the Intel 7 series chipsets include the Dual Intelligent Processors 3 with SMART DIGI+ Power Control, ASUS Wi-Fi GO! and Fan Xpert 2.

Brand new motherboards from ASUS? ROG brand include the micro ATX Maximus V GENE, as well as the ruggedized SABERTOOTH Z77 from the ASUS TUF range. The Maximus V GENE comes with SupremeFX III audio and network traffic management via Intel Ethernet and ASUS GameFirst technology, affording smoother gameplay.

Meanwhile, the SABERTOOTH Z77 features Thermal Armor for precision cooling and reliability. In addition to these boards, the ASUS 7 Series caters to a wide range of computing segments, including workstation models with 4-way GeForce SLI and dual Intel Ethernet.


Multimedia-focused and energy efficient mini-ITX and H77 motherboards further extend new ASUS and Intel technologies into the home theater PC sector.
Asus also showcased the new Asus P8Z77 series, which includes the P8Z77-V DELUXE, P8Z77-V PRO and the P8Z77-V models.
The first Dual Intelligent Processors from ASUS pioneered two onboard chips, the TPU, or TurboV Processing Unit, and EPU, or Energy Processing Unit. These increase system performance while saving energy through optimized power management. Dual Intelligent Processors 3 builds on that foundation with new SMART DIGI+ Power Control, which consists of multiple digital voltage controllers that allow for precise tuning of CPU, iGPU and DRAM power delivery while working with the TPU to ramp up performance.
For extra convenience, digital power delivery has also been upgraded with one-click performance optimization, and now includes Smart CPU Power Level profiles, which reduce CPU power consumption to specific wattages with a single click. The new architecture creates cooler and quieter desktops, with the new motherboards carefully designed in accordance with next generation Intel VRD 12.5 power standards.
Asus efforts have also gone into improving cooling with the introduction of hardware-based ASUS Fan Xpert 2. The included Fan Auto Tuning Mode scans fans individually to detect their thermal properties through automatic speed sensing. Custom fan speeds can be adjusted automatically or manually with a single mouse click, achieving an optimal balance of cooling and low noise. Fan Xpert 2 also includes an RPM Fixed Mode for users who wish to reduce noise levels to near 0dB, with highly specific fan speed controls that react to actual system loads for more accurate response.
ASUS also introduces the new Wi-Fi GO! technology, tailored to entertainment-minded users. Home entertainment becomes easier with Wi-Fi functions such as DLNA streaming. The Remote Desktop function provides access to the desktop with a tablet or smartphone acting as remote control, allowing greater convenience by creating a portable virtual desktop. Wi-Fi GO! can also convert PCs into routers, with all of these features fully integrated into a single utility.
In addition to the exclusive ASUS features described above, ASUS 7 Series motherboards include Intel Smart Response Technology, Intel Smart Connect Technology, and Intel Rapid Start Technology, while also natively supporting PCI Express 3.0.
ASUS also brings to CeBIT 2012 the HD 7970 DirectCU II graphics card and the ROG Xonar Phoebus for gamers, the RT-N66U wireless router, EA-N66 Ethernet adapter and SBW-06C2X-Z external Blu-ray writer for multimedia aficionados, and the PA248Q display and P1 Portable LED Projector for professionals.
The ASUS HD 7970 DirectCU II graphics card features an all new DirectCU thermal design, with six copper heat pipes and a 20% larger heat dissipation area. Asus claims that this new design delivers 20% cooler temperatures and is up to 14dB quieter than reference graphics cards. The DIGI+ VRM digital power design features 12-phase Super Alloy Power technology to increase power efficiency . VGA Hotwire lets users solder wires on the card?s voltage regulators to enable them to accurately read or adjust Vcore, Vmem, and PLL voltages on a hardware level. The GPU Tweak interface also helps users modify and tune clock speeds, voltages and fan performance. The HD 7970 DirectCU II is the only HD 7000 series card that can drive up to six screens through four native DisplayPorts.
The ROG Xonar Phoebus gaming soundcard is enhancing both sound quality and command clarity, in essence both audio input and output. ROG Command Technology integrates array microphones that effectively reduce up to 50% of environmental noise. It also gives a dynamic boost in sound clarity with a signal-to-noise ratio (SNR) of 118dB and headphone amplifiers which can drive 600 ohm audiophile-class headphones.

The Xonar Phoebus comes with a control box that gives users complete control over volume settings right at their desk; while the latest Dolby Home Theater V4 and GX 3.0 gaming audio engine have been specifically tuned for those into racing or FPS games.
The Asus RT-N66U wireless-N Gigabit Ethernet router provides dual-band 2.4GHz/5GHz performance up to a total of 900Mbps and 300,000 concurrent data sessions. ASUS Ai Radar technology and three antennas ensure strong wireless coverage and signal optimization, while ASUSWRT allows for easy network setup and management. Dual USB ports, DLNA certification, 3G sharing and server compatibility contribute to extensive multi-role functions.The ASUS EA-N66 Ethernet adapter offers dual-band usability at speeds of up to 450Mbps, operating in 2.4GHz and 5GHz bands. Its patented triple antenna design eliminates interference and assures a better signal, with users benefitting from 3-in-1 roles as a router, repeater, and access point. In addition, an interface and setup make it easy to connect to and manage networks.
3D Blu-ray entertainment also comes to the fore with the SBW-06C2X-U external Blu-ray writer. This external Blu-ray BDXL writer supports Blu-ray 3D, Dolby Digital EX and DTS-HD.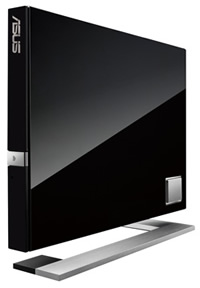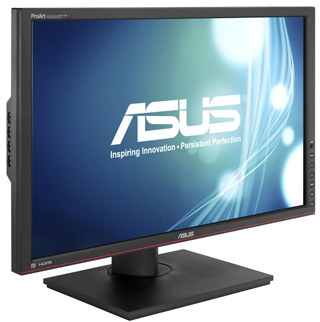 Designed for graphics professionals, the PA248Q features a pre-calibrated IPS panel that provides 100% coverage of the sRGB color space. Six-axis independent color adjustments along with Delta E <5 color accuracy ensure l color fidelity. To further increase user productivity, ASUS exclusive QuickFit Virtual Scale provides real-size artwork previews on-screen through photos, documents, and grid modes. The PA248Q features an ergonomic design with swivel, tilt, pivot and height adjustments to give users ideal views no matter their seating position. In addition, itcomes with four USB 3.0 ports.
The ASUS P1 ultra-light HD Portable LED Projector is rated at 200 ANSI lumens and features a long-life LED light source that enables it to support HD quality high resolution 1280 x 800 projections. With a short throw ratio of 1.16:1, users can enjoy HD projections the size of a 40" display if the P1 is just a meter from the screen. It can be set up in seconds with its instant height adjustment flip-down stand while an Auto Keystone Correction feature detects its orientation and automatically corrects distorted trapezoid images that result from an angled projection. Its compatibility with most ASUS notebook power adapters (≧65W) makes it the ideal ASUS business combo.