17. BIOS - Page 1
The Asus P5LD2 Deluxe has an almost identical BIOS with the P5WD2 Premium. In order to highlight the differences, we have provided screenshots from the P5WD2 Premium review (black and white) while those of the P5LD2 are full colour.
When opening the system, the following Asus logo splash screen appears. You can disable this and go straight to the BIOS POST messages.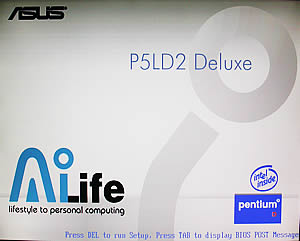 Asus Logo

Main Boot Screen
When entering the BIOS, the following screen is what you'll see first.

Bios main Screen

Hardware Information
A new screenshot since the CPU is different. Otherwise nothing new here.

Advanced Settings Main Screen

Power Main Screen

Hardware Monitor

Boot Main Screen

Boot Settings Configuration

Exit Screen
Detailed information about the BIOS configuration can be found in the board's manual.