1. Introduction
We have already reviewed the Asus P5AD2-E Premium for LGA775 socket-type processors. This time we'll take a look at another Asus motherboard also for the 775 socket, the P5GD2 Premium.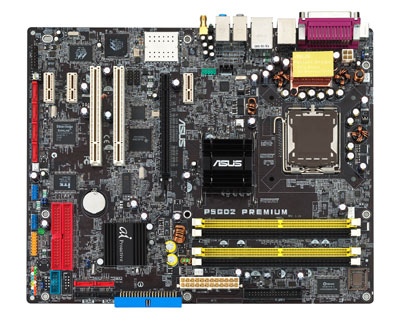 Asus P5GD2 Premium - Wireless Edition
Just like the P5AD2-E, the P5GD2 is designed on a black PCB. Even though the designs of the two motherboards may at first look similar, there are still a few visual differences which we'll examine later on.
Northbridge/Southbridge
The basic difference between the two motherboards lie beneath the northbridge. The P5GD2 utilizes the Intel 915P chipset whereas the P5AG2 the newer Intel 925XE. Both boards are equipped with the same black fanless heatsinks covering the chipsets.
Asus P5GD2 Premium Northbridge
Both motherboards use the Intel ICH6R as their southbridge chipset. That chipset manages the USB, serial, audio, IDE and ISA I/O.
Asus P5GD2 Premium Southbridge
As part of Asus' noiseless design philosophy, the P5AG2 Premium uses passive cooling so no fans are needed for cooling the chipset.
Packaging
The packaging for the P5GD2 is similar to all other ai Proactive boards. The ai Proactive logo is splashed across the front of the silver and black box.
As you open the box, you will notice one thing: the board ships with a lot of accessories. If you forget how the contents were laid out in the box, you will surely have a hard time putting them back in and then closing the box.
Accessories:
1 x Wireless LAN antenna (optional)
1 x 2-port IEEE1394b / 1-port RJ45 module
10 x Serial ATA cables
1 x SATA Extension module for external devices
4 x 2-port SATA power cable
1 x 2-port USB2.0 / Game module
1 x COM Port module
2 x UltraDMA 133/100/66 cable
1 x IDE cable
1 x FDD cable
1 x I/O Shield
User's manual
Software included:
InterVideo WinDVD Suite (OEM version)
Asus Drivers CD
ASUS PC Probe
ASUS LiveUpdate Utility
Anti-virus software (OEM version)
Warranty:
All Asus motherboards are covered by a 3-year warranty.