3. BIOS
The BIOS is the usual one seen with most ASUS boards. The first tab includes the system time/date and storage devices: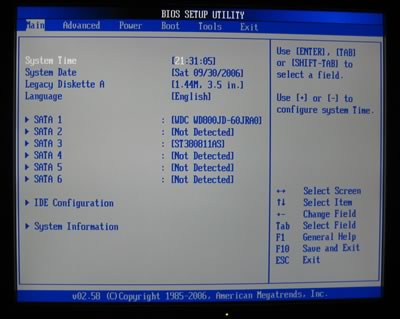 Under System Information, we can see our Bios Version and Build Data, the CPU processor type and available RAM:
The Advanced chipset feature, is the "heart" of Asus P5B Deluxe, where we can tweak all major overclocking settings. By default, AI Tuning and DRAM Frequency are set to AUTO:
In order to take control of your board, set AI Tuning to Manual and all available settings will appear:
The CPU Frequency sets the FSB, while the DRAM Frequency has several settings, from Auto to DDR2-1067MHz. Each setting represents a different CPU:RAM ratio, so be careful what to select:
DDR2-533 (1:1)
DDR2-667 (4:5)
DDR2-800 (2:3)
DDR2-889 (3:5)
DDR2-1067 (1:2)
If you overclock and increasing the FSB, the DRAM Frequency changes on-the-fly accordingly, a very useful feature:
Memory, CPU, FSB, NB, SB and ICH voltages can also be set. Note, that unfortunately, the P5B Deluxe doesn't support 2.2V for DRAM:
Moving on to the Advanced CPU settings, we can set important information about our processor, in this case the Core2Duo, Ratio status (set modify Ratio Support to Enabled) and disable SpeedStep Technology (set C1E Support to Disabled):
If we decide to manually set the CPU ratio (internal multiplier), another dialogue menu appears, and with +/- we can increase/decrease ratio value: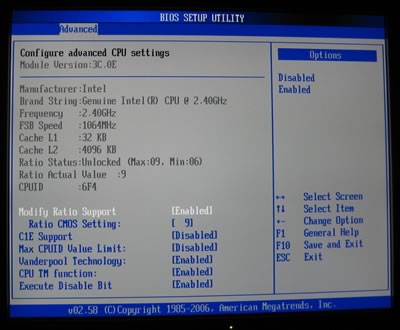 The Northbridge chipset controls the DRAM. By default, all settings are set to Auto.
Taking control of memory timings is important if you want to maximize the performance of your system
Other features include setting the HD Audio controller and On board LAN:
And of course, the hardware monitor: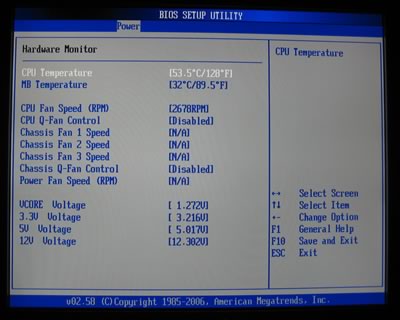 Boot priority can be set under Boot settings menu
The user has the option to set OC Profiles in the BIOS: