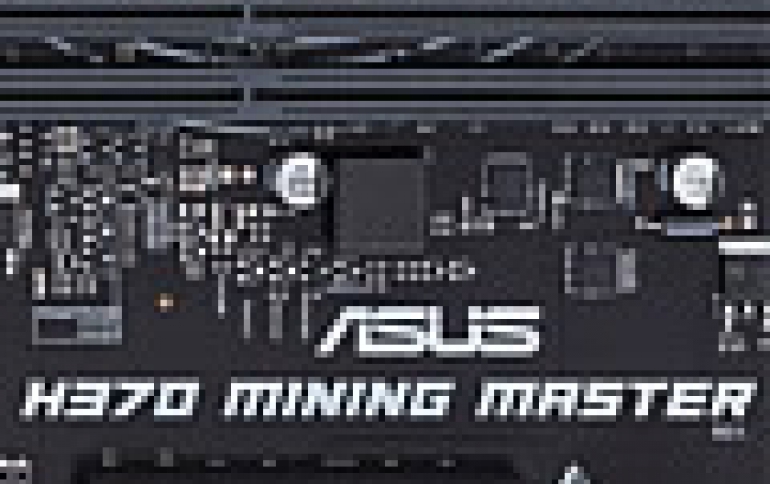 ASUS H370 Mining Master Connects 20 GPUs to one Motherboard
Asus' second generation of cryprtomining board is the new H370 Mining Master, which supports up to 20 graphics cards, simplifies connectivity by letting USB riser cables plug directly into the PCB, and reduces downtime by making problems easier to diagnose.
If you visit Computex 2018 in Taipei, Taiwan, you'll have the chance to see it running at full capacity in a custom mining rig at the ASUS booth.
Mining is a numbers game; it's only worthwhile if the value of the cryptocurrency you generate exceeds the cost of producing it. Increasing the number of graphics cards per node is a good way to stack the deck in your favor.
With 12 Radeon RX 470 and eight NVIDIA P104 cards tied to a single motherboard, Asus' demo rig highlights how much horsepower can be harnessed by the H370 Mining Master. The graphics cards are mounted in a special rack built just for this machine by Asus partners at Cooler Master. Spacing out the cards gives the GPU coolers room to breathe, which is vital when the underlying chips run continuously at full tilt. PCIe risers make configurations like this possible by connecting each graphics card to the motherboard with a length of flexible cable.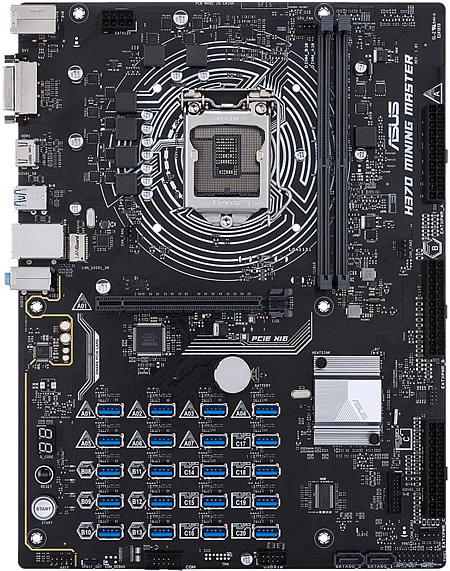 Each card can get by with a PCIe x1 link routed over USB 3.1 Gen 1 wiring. The risers responsible are typically made up of three pieces: the x16 slot that hosts the graphics card, the x1 card that plugs into the motherboard, and the USB cable that connects them. The H370 Mining Master simplifies this chain by replacing its predecessor's x1 slots with banks of vertical PCIe-over-USB ports that let riser cables plug right into the motherboard. This direct connection is sturdier than using a PCIe card, with less chance of inadvertent disconnects, and it reduces the total number of parts in your farm. Reimagining riser connectivity also cuts down on clutter around the motherboard, which enables cleaner wiring worthy of cross-posting on /r/cableporn.
The vertical USB ports are made specifically for riser cards. They're fed by PCI Express lanes in the Intel H370 chipset, so they're incompatible with ASIC mining modules that require a true USB connection. One graphics card can also sit in the available x16 slot on the motherboard, but installing it there disables the first riser port, so the maximum is still 20 cards total.
In order to make your cryptomining system run smoothly, the H370 Mining Master includes a suite of diagnostic features designed to make your farm easier to manage. Chief among them is GPU State Detection, which scans the system at boot and indicates whether each riser port is empty, connected to a functional graphics card, or experiencing problems.
The updated State Detection GUI identifies the location and status of each port along with the alphanumeric code that identifies it. To further streamline troubleshooting, the board will ship with matching alphanumeric labels to stick onto corresponding riser cards. You'll be able to look at the labels to find flagged GPUs instead of being forced to trace the path of cables connected to affected ports.
Onboard diagnostics are augmented by individual debug LEDs that light up when there are problems with specific system components, like the CPU or memory. The two-digit POST code display identifies issues that interrupt the boot process, further simplifying the troubleshooting process, while integrated power and reset buttons make it easier to work with a bare board.
Efficient mining requires a few UEFI tweaks that are consolidated in a special Mining Mode. The motherboard's PCIe lanes are set to run at Gen 1 speeds to improve compatibility and stability with USB riser cards. Above 4G Decoding is enabled, which is critical for supporting lots of graphics cards, and Launch CSM is disabled, which lets the motherboard and graphics UEFIs synchronize with each other. Mining Mode is activated by default.
With a trio of 24-pin primary power connectors, the H370 Mining Master can connect to up to three PSUs simultaneously. Each one is tied to a separate bank of riser ports, allowing you to scale up the number of GPUs gradually and add more power as needed. All that's required is for the PCIe power connector on each graphics cards to be plugged into the same power supply as the corresponding riser port.
The graphics cards used for mining are typically headless number-crunchers that never connect to a monitor, and some lack display outputs entirely. Traditional display duties are handled by the graphics processor on the CPU, whose signal is piped through graphics ports on the motherboard. Asus' previous B250 Mining Expert model was limited to a single HDMI output, but the new H370 also gets a DVI to the rear cluster.
The H370 Mining Master is slated to be available later this year.
H370 Mining Master
Size
ATX, 12" x 9.1"
Socket
LGA 1151 for Intel 8th Gen Core, Pentium, and Celeron processors
Memory
2 x DIMMs (max. 32GB)
DDR4 2666/2400/2133MHz
Non-ECC, unbuffered memory
Slots
1 x PCIe x16
Storage
2 x Serial ATA 6Gbps
Networking
1 x Intel Gigabit LAN
GPU riser ports
20 x PCIe over USB (vertical)
USB ports
6 x USB 3.1 Gen 1
4 x USB 2.0/1.1
Other
1 x COM header