4. Performance
The installation was rather tricky, but what really counts is how good is this CPU cooler? Since we already had in our hands another Socket 775 cooler, the AC Freezer 7 Pro, we put both on the same testbed:
EVGA 680i LT SLI + Intel C2D E6600 @ 3.00GHz
OCZ GameXStream GXS600 SLI-Ready
2x1GB OCZ DDR2-6400 SLI Ready
WD 800JB 7200RPM
To "stress" test our system, we used Orthos software, and for measuring temperatures, CoreTemp 0.95.
We let the system run for 11minutes and...
Here are the test results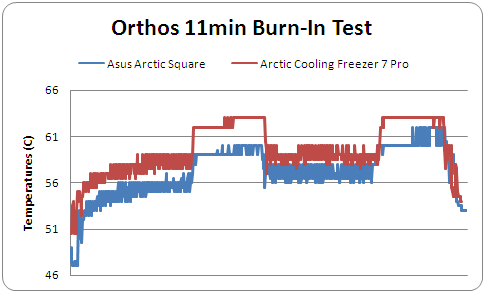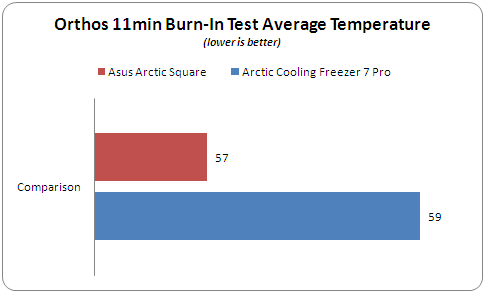 The results show that the Asus Arctic Square was on average 2° Celsius cooler than the Arctic Cooling Freezer 7 Pro, and in fact the difference throughout the duration of the test was consistently 2° to 3°. As for the noise, we had the feeling that the ASUS cooler was somewhat quieter than the Freezer 7 Pro.