AMD's ARM Server Chip Makes Official Debut
Advanced Micro Devices (AMD) launched the AMD Opteron A1100 System-on-Chip (SoC), formerly codenamed "Seattle." But the new A1100 chip will power a relatively small companies and it is uncertain whether it would be able to compete directly with Intel's Xeon server processors. The AMD Opteron A1100 Series SoC is the first 64-bit ARM Cortex-A57-based platform from AMD. It is utilizing ARM Cortex-A57 processors with "high-speed network and storage connectivity and energy efficiency," according to AMD.
The 32W chip runs at 2 GHz and uses eight ARM A57 cores, 4 Mbytes L2 cache, and supports DDR4 memory at up to 1,866 MHz as well as support for two Gbit Ethernet controllers. Since it was first announced more than a year ago rivals including Applied Micro, Broadcom, Cavium, Huawei and Qualcomm have raised their sights, announcing plans for ARM-based server processors in FinFET processes using dozens of cores.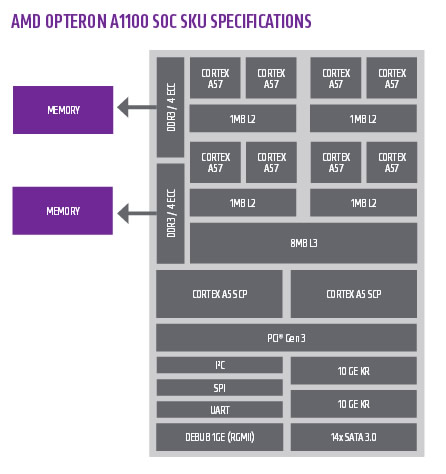 It is not clear how the 28nm Seattle is a competitive server processor relative to Intel's 22nm and 14nm offerings such as the Xeon E3 and Xeon . The power efficiency is relatively unimpressive at 4W/core for an A57, probably due to the older process technology and the standard ARM core.
| | | | | | | | | | |
| --- | --- | --- | --- | --- | --- | --- | --- | --- | --- |
| Model Number | TDP | Cores | L2 Cache | L3 Cache | CPU clock GHz | Max DDR3 rate | Max DDR4 rate | Temp Range (Tdie Max | ECC |
| A1170 | 32W | 8 | 4M | 8MB | 2.0 | 1600 | 1866 | 0C - 80C | Yes |
| A1150 | 32W | 8 | 4M | 8MB | 1.7 | 1600 | 1866 | 0C - 80C | Yes |
| A1120 | 25W | 4 | 2M | 8MB | 1.7 | 1600 | 1866 | 0C - 80C | Yes |
AMD says that the AMD Opteron A1100 SoC is powering systems from SoftIron with its Overdrive 3000 system for developers, as well as an upcoming lineup of software-defined storage solutions.
AMD is also collaborating with Silver Lining Systems (SLS) to integrate SLS' fabric technology in innovative dense server designs featuring the Opteron A1100 Series, targeted at streaming, Web and storage workloads for cloud and hyperscale datacenters. The SLS Fabric Interconnect incorporates a 60Gbps switching fabric and is available as a PCI Express expansion card or a standalone ASIC for custom server applications.
The AMD Opteron A1100 SoC has been in development for several quarters and is available in mass production quantities today.
The ARM server initiative is expected to take several years to gain significant traction. Startup Calxeda folded after its 32-bit SoCs failed to gain traction. And AMD canceled Skybridge, a plan for x86 and ARM-based chips that used a common socket and interface.
Hewlett-Packard has shown blade servers using ARM-based processors, but most of the current chips are also being sold into storage or embedded systems. Red Hat is shipping a development preview of Linux for ARM servers, but said before it can be commercially released it needs to test it on standard ARM servers, something not yet generally available.
Gigabyte, Hyve and Stack Velocity are currently shipping ARM-based systems or have plans to, and hundreds of open source cloud applications are running on ARMv8-A today. Ongoing work from Linaro, Canonical, SuSE and Red Hat continue to strengthen the developer ecosystem for ARM servers and the Linaro 96boards program will provide low cost development boards for ARM 64-bit development.
AMD expects to deliver by the end of the year its first processors based on its next-generation x86 core called Zen. The company is also developing a custom ARM server core, the K-12, it is not saying when it will ship processors using it.