AMD Socket AM4 Will be Compatible With Ryzen 3 Chips
In 2016, AMD made a bold commitment to continue to support AMD Socket AM4 until 2020, and it seems that the popular socket will be alive for many years more.
AMD confirmed that the the "Zen 3" architecture will be compatible with AMD Socket AM4. The company officially plans to support next-gen AMD Ryzen desktop processors, with the "Zen 3" architecture, on AMD X570 and B550 motherboards. This will require a BIOS update. AMD has also also updated its official chipset/CPU support matrix to take future "Zen 3" processors into account: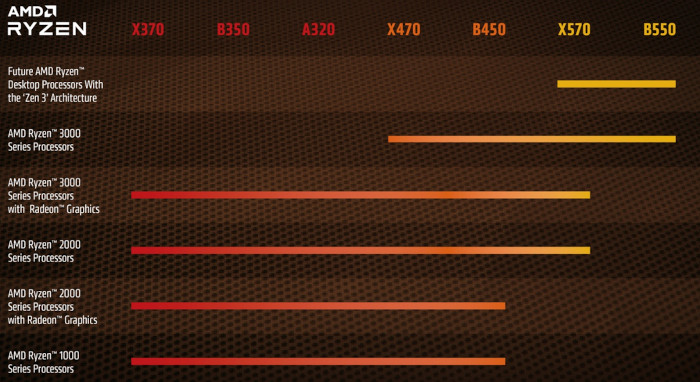 AMD said it has no plans to introduce "Zen 3" architecture support for older chipsets, since the flash memory chips that store BIOS settings and support have capacity limitations. "Given these limitations, and the unprecedented longevity of the AM4 socket, there will inevitably be a time and place where a transition to free up space is necessary—the AMD 500 Series chipsets are that time," said Robert Hallock, the Technical Marketing lead for AMD consumer processors.
AMD B550 motherboards arrive soon, and AMD wanted you to rest easy knowing that an investment in this platform gives you a clear upgrade path tomorrow. The same is true for AMD X570 motherboards, too.
AMD also revealed motherboard designs from the top 5 manufacturers, releasing a model of each.
Asrock revealed the B550 Taichi, Asus has a STRIX B550-E Gaming, and Biostar is present with a M-ATX model, called the B550GTQ. Gigabyte will launch the B550 AORUS Master and MSI will release the MPG B550 Gaming Carbon Wi-Fi.
If you're interested in building a new gaming rig around AMD B550, motherboards will be available starting June 16th.