AMD Fury X Reviews Show Impressive Performance That Does Not Put Nvidia's 980 Ti Aside
The first reviews for AMD's first graphics card based on the "Fiji" GPU with High Bandwidth Memory (HMB) onboard show that the Radeon R9 Fury X does not outperform the rival and identically priced Nvidia GeForce GTX 980 Ti. AMD fans out many hopes on the innovative features that the new GPU brings on the table, features that are expected to change the gaming landscape in the near future. Namely HMB, AMD's focus on memory bandwidth partially payed off, at least for now.
The good thng for AMD is that it has managed to deliver a new video card that is completely competitive with NVidia's high-end offering in terms of price and performance.
The Fury X's performance can be matched by the GTX 980 Ti in the "lower" 1080p resolution, but it showes its strengths as we move to 1440p and 4K gaming. You spend $650 in order to play in high resolutions after all.
The results posted today online by most websites underlined AMD's small edge in 4K gaming.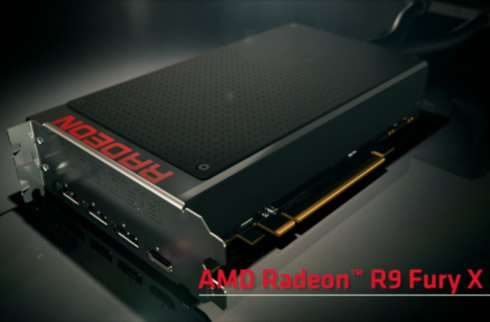 For instance, Tom's Hardware found that the Fury X bested the GTX 980 Ti and Titan X running Far Cry 4 at 1440p by around 10 FPS, with a similar lead in the game at 4K. Performance at 4K is definitely a high point for the Fury X, where in games like The Witcher 3, Metro Last Light, and Shadow of Mordor, it beat the Nvidia cards. But in Grand Theft Auto V, it was the GTX 980 Ti that was faster at both 1440p and 4K.
Some other websites showed the Fury X as slower than the 980 Ti in most games at 1440p.

Overclockers will not impressed by the Fury X, as most reviews showed that overclocking will give some extra 50-90MHz to the GPU clock, while memory overclocking isn't possible at all.
The biggest differentiator, though, is power consumption and heat. The Fury X is eqyuipped with a watercooling system so the GPU temperature was kept down to around an impressive 60 degrees Celsius under load. Reviews also reflect power consumtion peaks at around 290 watts.
Some reviews also highlighted a high frame time variance - a problem that has long afflicted AMD cards, causing stuttering slowdowns, despite an overall high average frame rate.
Besides the frame variance issues, which could be ironed out through a driver update, the comparison of the Fury X with the Nvidia 980 Ti showed that their respective performances are very close; the Fury X is quieter and cooler overall; the 980 Ti is a bit faster in lower resolutions and it overclocks well.