7. CDR Tests - Page 2
32x CD-RW Roundup Vol 3- Page 7
CDR Tests - Page 2
- 80min CD-R Tests
In our normal burning tests the 80min CD contains slightly more than 80min data (80:01:47):
With 80min CDs, ASUS and TDK drive had the same performance and finished the task after 334/336 seconds.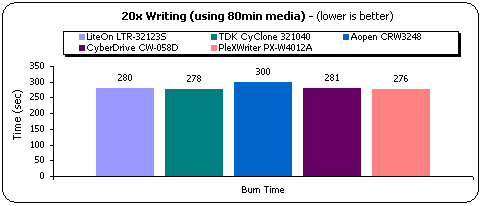 Mitsumi CR-480ATE and ASUS CRW3212A doesn't support 20x writing speed option
At the 20x writing speed, the TDK Cylone comes second behind PleXWriter PX-W4012A. It needs 278secs to end the task.
At the 32x writing speed, the faster drive comes from CyberDrive (CW058D). The ASUS CRW3212A comes second with 224secs and the TDK CyClone 321040 third with 226secs.