6. CDR Tests - Page 1
32x CD-RW Roundup Vol 3- Page 6
CDR Tests - Page 1
- Procedure
We tested all five drives with latest version of Nero/CloneCD. We used various media for our tests: Mitsubishi Chemicals 74/80min 24x/32x certified, Mitsui 74min 24x certified, Taiyo Yuden 74/80min 24/32x certified, Ricoh 80min 24x certified and Mitsubishi Chemicals/LiteOn HS-RW media. We burned CDs at almost all recording speeds from 16x up to 32x using the SAME amount of data for all drives. The posted recording times are the best we had from our test results. Using other media can increase the final burning time. Note that both ASUS/TDK drives doesn't support 24x writing speed.
- Comparison
Before starting the recording tests, let's see how the drives are compared in the writing/rotation speeds:
TDK Cyclone starts writing in a higher speed (20x CLV) than ASUS drive. However the ASUS CRW3212A shifts up to the maximum speed (32X) earlier , so the average recording speed is more or less the same.
TDK starts writing at the highest -up to now- rotation speed (10.050rpm), which is gradually reduced. The drive makes a lot of noise during the writing process but that seems to be necessary. Rotation speed for ASUS is 8000rpm in the beggining, and spins up to 9000 rpm earlier than TDK Cyclone.
- 74min CD-R Tests
Both ASUS and TDK drives refused to write CDs at 24X. We tested the drives at 16x, 20x and 32x soeeds.We created a "DataCD" job with data slightly more than 74mins (74:03:65). We burned the same job with all five tested drives: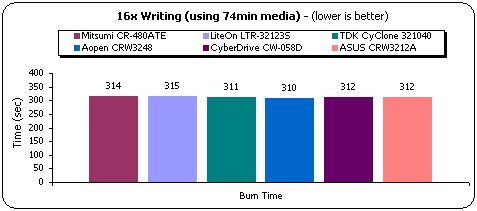 The faster drive at the 16x writing test is AOpen. The drive ends the task at 310 (JustSpeed disabled). TDK Cyclone also gave a good performance with 311sec, and ASUS /Cyberdrive follows with 312 seconds.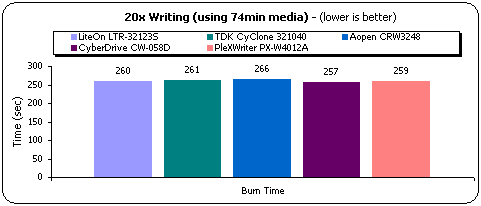 Mitsumi CR-480ATE and ASUS CRW3212A doesn't support 20x writing speed option
The faster recorder at the 20x writing speed comes from CyberDrive with 257secs. The TDK CyClone 321040 needs 261secs to end the same task.
At the maximum recording speed of 32x, the faster drive comes from CyberDrive. The ASUS CRW3212A needs 214secs and the TDK Cyclone finishes earlier with 211secs..