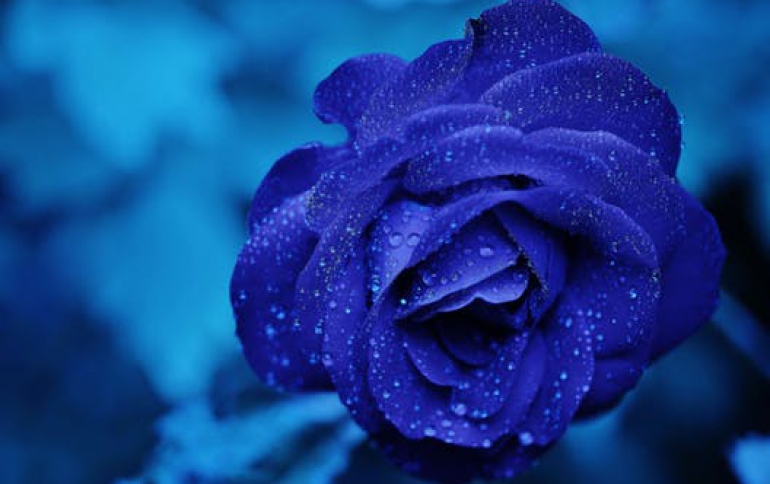 Zotac at CES 2014
ZOTAC kicked off CES 2014 with a couple new, high-performing ZBOX mini-PCs for daily use or HTPC duty. Starting with the impressive ZBOX OI520, which has a unique, almost spherical body and a diagonal LED line that glows across its surface.
The device is armed with an Intel Core i3-4010U (1.7GHz) CPU and two SO-DIMM slots tha can accept up to 16GB of memory. An 2.5-inch drive and an mSATA can be also installed. Connectivity options include an HDMI output, a DisplayPort, four USB 3.0 ports, three USB 2.0 ports, a Gigabit Ethernet, an SD card slot and a 4K output. Bluetooth 4.0 and wireless LAN IEEE 802.11ac also come standard.
The ZBOX OI520 is expected to hit shelves in North America in the third quarter of 2014, priced at $400.
The new ZBOX EI700 series will use fourth generation Intel Core processors. The lineup includes the ZBOX EI730 (Core i5-4570R 2.7 ~ 3.2GHz) and the ZBOX EI750 (Core i7-4770R of 3.2 ~ 3.9GHz). Both feature integrated 5200 Iris Pro Graphics GPUs and have 4K outputs. They support up to 16GB of memory and 2.5-inch mSATA SSDs. Each model also features a USB 3.0 and an SD card slot on the front, Gigabit Ethernet, 2x DVI-I, 2x DisplayPort and another USB 3.0 port on the rear side. Bluetooth 4.0 and wireless LAN IEEE 802.11ac are also supported.
Zotac plans to release the ZBOX EI700 series in the third quarter. Prices are $399 and $499 for the ZBOX EI730 and the ZBOX EI750 models, respectively.
Zotac's ZBOX nano series is the company's smallest device powered by an AMD A4-5000 AMD (Kabini). Inside its small case there is a single SO-DIMM slot for up to 8GB of memory and a 2.5-inch drive. External ports include 3x HDMI, 2x USB 3.0, 2x USB 2.0, DisplayPort and Gigabit Ethernet. On the front side of the device there are also an SD card slot and two additional USB 2.0 ports. Bluetooth 4.0 and wireless LAN IEEE 802.11ac are supported.
The ZBOX nano will retail in the second quarter for about $300.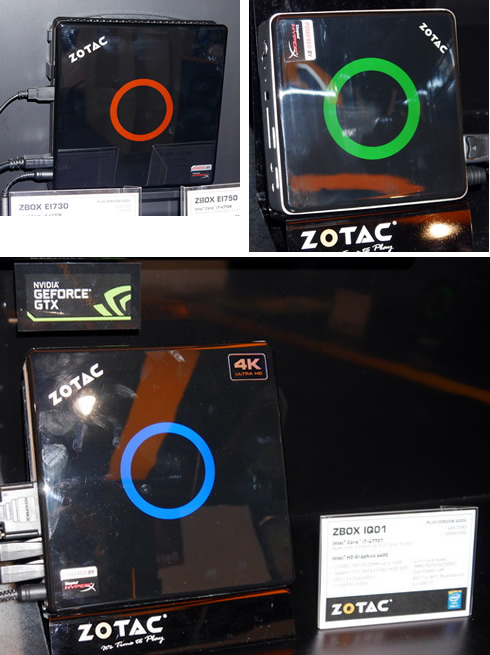 Zotac has already released thenew ZBOX nano ID67 series with 4th Generation Intel Core technology. The device incorporates the latest Intel Core i3 4010U processor (1.7 GHz, dual-core, 3MB L2 cache) with Intel HD Graphics 4400 and a trio of networking technologies – Gigabit Ethernet, 802.11ac and Bluetooth 4.0.
Zotac had also on display the following devices, also expected to launch later this year:
ZBOX IQ01:
Intel Core i7-4770T (2.5 ~ 3.7GHz), 2x DisplayPort, 1x DVI-I video output, 4K output, supports simultaneous outputs to three screens.
ZBOX EN770:
GeForce GTX 765M GPU, fourth-generation Intel Core i5, up to 16GB of memory, 2.5-inch drive, mSATA, HDMI and DVI-I outputs, Bluetooth 4.0, IEEE 802.11ac
ZBOX ID92:
Shares the same specs with the ZBOX IQ01 but comes with an Intel Core i5-4570T (2.9 ~ 3.6GHz) CPU and supports 4K output.