Volvo Unveils New 360c Autonomous Concept
Volvo Cars presented a fully electric robo-taxi on Wednesday, as the company races to meet an ambitious target for driverless vehicle sales with its Uber supply deal on hold.
According to the company, the new Volvo 360c concept is a holistic view of a future of travel that is autonomous, electric, connected and safe. It could open up new growth markets for Volvo Cars, for example in the multi-billion dollar domestic air travel industry.
The basis of the 360c is a fully autonomous, fully electric car without a human driver. It has no steering wheel and a combustion engine, providing the ability to reimagine the traditional placement of passengers in rows of two or three.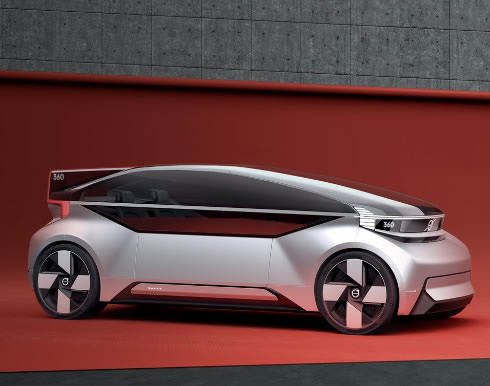 The 360c presents four potential uses of autonomous driving vehicles - a sleeping environment, mobile office, living room and entertainment space. It also introduces a proposal for a global standard in how autonomous vehicles can safely communicate with all other road users.
The 360c represents a potentially lucrative competitor to short-haul air travel, a multi-billion dollar industry comprising airlines, aircraft makers and other service providers. Especially shorter routes where the distance between origin and destination is around 300 kilometres are prime candidates for disruption by an alternative mode of travel.
For example, several busy domestic air routes, such as New York to Washington DC, Houston to Dallas and Los Angeles to San Diego, are more time-consuming by air than by car when including things such as travel to the airport, security checks and waiting times.
Volvo expects autonomous cars to account for a third of its sales by 2025, the company said in June, while fully electric cars claim 50 percent.
Tech companies such as Uber and Alphabet's Waymo are pouring billions of dollars into autonomous car development, while auto manufacturers such as Daimler are testing prototypes.
Few details have yet been announced, however, a year before Daimler and partner Bosch are due to deploy robo-taxis in California's Silicon Valley.
So far, Volvo's self-driving ambitions have been closely linked with Uber, which was operating a fleet of autonomous Volvo XC90s until a recent fatal collision with a pedestrian brought the program to a halt.
Volvo, whose first stand-alone autonomous car is due in 2021, is exploring a listing this year.