Ubisoft at E3 2019
Ubisoft showcased at E3 new reveals, new content for live games, hands-on demos, big prizes, and more.
Uplay Plus subscription service
Ubisoft is the latest to offer a monthly subscription, taking on Microsoft's Xbox Game Pass, Sony's PlayStation Plus, Google Stadia, Apple Arcade and EA Access.
The game makersaid it plans to launch a new subscription service for Windows PCs and Google's Stadia service called Uplay Plus on September 3. It'll cost $14.99 per month.
Uplay Plus, which players will be able to sign up for starting June 10, will give players access to the company's upcoming releases, including Watch Dogs: Legion, Tom Clancy's Ghost Recon Breakpoint, Assassin's Creed Odyssey and more. All told, Ubisoft said the service will have more than 100 games.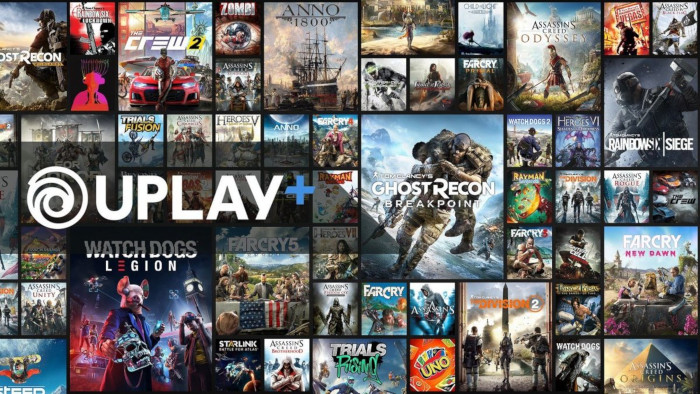 Microsoft on Monday said its upcoming $9.99 per month Xbox Game Pass for PCs would be included in its newly announced Xbox Game Pass Ultimate bundle, also $14.99 per month. Google meanwhile announced its $9.99 per month Stadia Pro subscription. And that's on top of subscription services for Sony's $60 per year PlayStation Plus, Sony's $20 per month PlayStation Now, and Electronic Arts' $5 per month EA Access. Apple as well has announced its Apple Arcade subscription service for its iPhons and iPads, with pricing expected later this year.
Updated Roadmap for Year 1 of Tom Clancy's the Division 2
Ubisoft announced updated details for the Year 1 roadmap in Tom Clancy's The Division 2. Tom Clancy's The Division 2 is available on the Xbox One family of devices including the Xbox One X, PlayStation 4 and Windows PC. Tom Clancy's The Division 2 will also launch on the new generation gaming platform, Stadia. Tom Clancy's The Division 2 will also be available on Uplay+, Ubisoft's subscription service.
The first year of free post-launch content will include three episodes packed with story driven missions that will ultimately lead agents back to where it all started. Players can look forward to the following episodes over the next year, each one of them bringing new areas, modes, rewards, specializations, exotic gear and weapons:
Episode 1 D.C. Outskirts: Expeditions – July 2019: Episode 1 is all about exploration. Agents will scope out the outskirts and woodlands of Washington DC, as well as discovering the 11 biomes of the Washington National Zoo. The hunt is on to find the leader of the Outcasts and President Ellis. Episode 1 will also include the brand-new Expeditions in which players will have to participate every week to progress through the different wings of Trinity College.
Episode 2 Pentagon: The Last Castle – Fall 2019: Taking place at the Pentagon, players in Episode 2 will experience escalation in DC. The Black Tusks continue to wreak havoc around the city and it's up to the Agents to stop them. In Episode 2 main missions players must fight to solve the ongoing outbreak crisis. Agents have to defend the Pentagon, and its secrets from the Black Tusk. Episode 2 will bring a new iteration of the most challenging content to date; our second 8-player Raid. This time, Agents will venture in the core of a Foundry, setting the stage for epic combats in the middle of melted metal and massive metal castings.
Episode 3 Coney Island: Homecoming – Early 2020: A showdown takes place in Episode 3 that will lead players to Coney Island. Agents will encounter new challenges as they must stop a familiar nemesis and face the biggest threat of all.
Tom Clancy's The Division 2 will also be on sale (up to 40% off from June 7 to June 24), allowing players to continue the adventure at a discounted price after the end of the Free Weekend. Those who purchase the game will keep their progression.
Netflix has acquired the rights to make a movie based on Tom Clancy's The Division. Ubisoft revealed that the screen adaption of its RPG game, starring Jessica Chastain and Jake Gyllenhaal, will be coming to the streaming service in the future. There's no release date for the movie yet, but we'll likely learn those details over the coming months.
Assassin's Creed Odyssey Story Creator Mode Lets Players Design New Adventures; Discovery Tour Coming This Fall
Assassin's Creed Odyssey gives players the chance to forge their own destinies across Ancient Greece – and now, Ubisoft has announced Story Creator Mode, enabling players to create entirely new quests and share them with other players. Ubisoft also revealed that Discovery Tour: Ancient Greece is coming early this fall, letting players explore its vast open world like a museum, complete with guided exhibits.
Available now as an open beta for players who own Assassin's Creed Odyssey, Story Creator Mode is a web-based tool that lets players design and share their own narrative-driven quests. Players can choose from six different quest objectives – including assassination, rescue, or visiting a specific place – and create their own branching dialogue and paths, while casting the game's characters in new roles. Creators can also give players the option to lie their way through an encounter, or end dialogue by attacking NPCs, if their story calls for it. Created quests can be shared and played on any platform, even if the creator and player are using different systems.
Players who prefer to dive deeper into what's already been created can check out Discovery Tour: Ancient Greece early this fall, when it will be available as a free update for Assassin's Creed Odyssey. Letting players explore the game's open-world rendition of Greece without conflict or gameplay constraints, Discovery Tour: Ancient Greece features 300 stations where players can take guided tours to learn more about Ancient Greek philosophy, war, daily life, mythology, and architecture. Additionally, the new mode will build on Assassin's Creed Odyssey's dialogue system with interactive quizzes at the end of each tour.
Assassin's Creed Odyssey is available now on PS4, Xbox One, and PC, and will be available on Stadia when it launches.
Tom Clancy's Elite Squad Brings Together Splinter Cell, Ghost Recon, Rainbow Six, and More In Mobile Military RPG
Tom Clancy's Elite Squad, a free-to-play military RPG coming to mobile devices, lets fans assemble a strike team from across multiple Tom Clancy's franchises – including Splinter Cell, Ghost Recon, Rainbow Six Siege, and The Division – and command them against other squads in real-time tactical firefights. Players can deploy squads of five soldiers in the story-driven campaign, pit them against other players in the PVP Arena, or join forces with friends in online Guild Wars.
Tom Clancy's Elite Squad will release worldwide for iOS and Android devices. To pre-register for the game – and get an exclusive in-game character, Ghost Recon Breakpoint's Cole D. Walker – sign up at elitesquadgame.com.
Rainbow Six Quarantine Infects Co-Op Players in 2020
Set several years into the future of the Rainbow Six Universe, Rainbow Six Quarantine takes the tactical action that the series is known for and sets it against the backdrop of an entirely new co-op campaign. When a mutated alien parasite starts infecting human hosts, it's up to the Operators of Team Rainbow to stop the deadly threat before time runs out.
Created by Ubisoft Montreal, and a dedicated new team comprised of developers from For Honor, Ghost Recon, and more, Rainbow Six Quarantine aims to create a chaotic, intense, and unpredictable co-op, PvE experience. Players will band together with two other teammates and storm into quarantine zones around the country in an effort to turn the tide for humanity when Rainbow Six Quarantine releases on Xbox One, Playstation 4, and PC in early 2020.
Just Dance 2020 – 10th Anniversary Entry Includes New Songs, Return of Co-Op
Just Dance is turning 10 this year, and it's celebrating with the Just Dance 2020 for Wii, Switch, Xbox One, PS4 and the Stadia gaming platform. The game comes backed with 40 new songs from a variety of artists. The first songs revealed so far:
God Is a Woman – Ariana Grande
Skibidi – Little Big
Vodovorot – XS Project
Bangarang – Skrillex Ft. Sirah
Con Calma - Daddy Yankee Ft. Snow
Bad Boy - Riton & Kah-Lo
High Hopes – Panic! At The Disco
Kill This Love – BLACKPINK
Sushi - Merk & Kremont
I Like It - Cardi B, Bad Bunny & J Balvin
Policeman - Eva Simons Ft. Konshens
Rain Over Me - Pitbull Ft. Marc Anthony
If that's not enough to get your toes tapping, consider that Just Dance 2020 not only comes with a host of classic modes (including Sweat Mode and Kids Mode), but it also features the return of Co-Op mode, enabling you and a fellow dancer to combine forces and run up those scores.
In addition, an enhanced recommendation system that not only shows you more of the music you love, but also gives you the ability to build your own playlists and customize Just Dance parties.
What about being able to play the game through the Just Dance Controller App like I did before I broke my phone? Boy howdy, that's a feature in
Just Dance 2020 also allows you to play the game through the Just Dance Controller App.
Ghost Recon Breakpoint Beta Starts September 5
Ghost Recon Breakpoint launches on October 4, and you can get an early chance to infiltrate its open world when the Beta kicks off this September. Running from September 5-8, the Beta will let players explore the Auroa archipelago, alone or in four-player co-op, and face the renegade Wolves. Led by Lt. Col. Cole D. Walker (played by actor Jon Bernthal), a former Ghost, the Wolves are an elite unit with the same training and skills as you – and, as if that didn't make them deadly enough, they've also taken control of an army of military drones.
Players can get guaranteed access to the Beta by pre-ordering Ghost Recon Breakpoint, or can sign up for a chance to play. Additionally, players who pre-order the Gold, Ultimate, or Wolves Collector's Editions of Ghost Recon Breakpoint can start playing on October 1, with three-day early access.
Additionally, fans can get involved with Ghost Recon Delta Company, a new community program that offers special content and direct discussion with developers. Ghost Recon Delta Company will be available worldwide in more than 10 languages, and you can sign up to join at ghostrecon.com/DeltaCompany.
Ghost Recon Breakpoint will launch on PS4, Xbox One, and PC on October 4, and on Stadia when it launches.
For Honor – Shadows of the Hitokiri Event Brings New Mode, Customization Options
The Vikings, Knights, Samurai, and Wu Lin of For Honor have a haunting new way to do battle on PS4, Xbox One, and PC. Soul Rush, a new limited-time mode introduced as a part of the now-available Shadows of the Hitokiri event, pits teams of Heroes against each other in a fight to collect the most souls by killing soldiers.
It's not simply a race to kill the most soldiers, however. Each Hero has their own stock of souls, which count toward their team's total, and Heroes can lose their souls if killed by an opposing Hero – who then steals a portion of their souls. Furthermore, downed players will lose their remaining souls on revive, and the only way for their team to salvage their remaining souls is to revive the downed player. Securing souls is crucial to victory, and both teams can deposit their earned souls in designated points on the battlefield, increasing their team's score. The first team to 1,000 points will push the opposing team into breaking.
The Shadows of the Hitokiri event also introduces new Illustrious Outfits inspired by death gods, as well as new effects, an all-new emote, and more. There is one Illustrious Outfit available per faction, and each costs 20,000 Steel per Hero in the store. The new emote will cost 10,000 Steel. Neither the Illustrious Outfits nor the emote will be available as lootable items, but both will also be available as part of the Hitokiri Bundles.
Shadows of the Hitokiri will be live on PS4, Xbox One, and PC from June 10 at 1PM PT, to June 27 at 6AM PT.
Watch Dogs: Legion – Liberate London As Anyone This March
Watch Dogs: Legion is coming March 6, 2020, and it's dropping players into a near-future London where anyone can be recruited to fight back against a new wave of authoritarianism. Coming to PS4, Xbox One, PC, and the Stadia gaming platform, Watch Dogs: Legion challenges you to push back against criminals, a corrupt private military corporation, and an oppressive surveillance state amidst a collapsed government by building a resistance from the downtrodden citizens around you.
The characters you'll meet roaming around London aren't randomly generated; instead, each has a persistent schedule and backstory, as well as special traits you can leverage to help your cause using the Play as Anyone feature. By helping characters and improving their opinion of hacker group DedSec, you can persuade them to join – and once they do, you'll be able to take full control of them. You'll also shape them into effective operatives – tough Enforcers, sneaky Infiltrators, or drone-controlling Hackers – and add them to a team with diverse skills and backgrounds, whose members you can switch between at any time (and who can all do at least basic Watch Dogs-style environmental hacking).
London's citizens are all fully voiced, and whether you're playing as an elderly pensioner or a tough-as-nails boxer, the game's cutscenes will change to reflect your character's presence and personality. Your choices also have an effect on the world around you; put up your fists instead of drawing a gun, for example, and your enemies will attempt to arrest or take you down non-lethally. But if you draw a gun – even a nonlethal one – they'll do likewise, and the confrontation could end with your character permanently killed.
Pre-ordering Watch Dogs: Legion will get you access to the Golden King Pack, which includes a mask skin, pistol skin, and car skin. Additionally, the game will be available in the following editions:
The Standard Edition, which includes the base game.
The Gold Edition, including the base game, Season Pass (including the Not In Our Name story mission, available at launch), and three-day early access.
The Ultimate Edition, which contains the base game, Season Pass, early access, and Ultimate digital content including the Urban Jungle Pack (with three new characters, along with their masks and outfits) and four weeks of VIP status, which earns experience and currency more quickly.
The Collector's Edition, exclusive to the Ubisoft Store, which includes everything in the Ultimate Edition as well as an LED Ded Coronet Mask Replica, a Steelbook case, three exclusive stickers, and a recto-verso propaganda poster, as well as instant access to an in-game version of the Ded Coronet mask.
On PC, NVIDIA's GeForce RTX is the official graphics partner of Watch Dogs: Legion, and Ubisoft is working with NVIDIA to bring real-time ray tracing and other advanced technologies to the game.
Watch Dogs: Legion launches March 6, 2020, on PS4, Xbox One, PC, and Stadia.
Trials Rising Season 2 Brings Medieval Motor Mayhem
Trials Rising Season 2: Medieval Motor Mayhem is underway, introducing a new season of ranked multiplayer, two new Ronin- and Knight-themed rider outfits and bike skins, a new shopping cart vehicle, and new tracks. You can experience all the new content for yourself now on PS4, Xbox One, PC, Nintendo Switch. Trials Rising will also launch on the Stadia gaming platform.
Hot on the heels of Season 1, Medieval Motor Mayhem brings a new seasonal reward to Trials Rising's ranked multiplayer. As you climb your way through the ranked divisions, you'll earn different parts of the Golden Ronin outfit, which will be awarded at the end of the season. Get ready for some tough competition, as only the best riders will obtain the full outfit.
Alongside the new multiplayer rewards comes a wealth of new customization items, which will arrive regularly throughout the season. Two new rider outfits, the Ronin and the Knight, as well as two new bike skins (based on the aforementioned warriors) will headline the season's content. Additionally, four new Knight- and Ronin-themed headlights, 10 new themed helmet accessories, and six new themed stickers will be available. Once you've decked out your rider and bike to your heart's content, you'll be able to showcase them in new ways, thanks to the addition of five new loading poses, five new victory animations, and two new lose animations.
Season 2 is also introducing an entirely new ride: the Shopping Cart. The unique bike will challenge you to prevent your rider from falling out of the cart as you make your way through select courses.
Finally, Season 2 lets you take a trip to the Renaissance Faire across five new tracks. You'll also be able to revisit a classic concept from Trials HD, with three all new tracks.