Traxdata 11in1 Card Reader
1. Introduction
TraxData 11in1 Card Reader - Page 1
- Introduction
In day to day operations, a large part of our storage needs are covered by memory cards. With this in mind, Traxdata recently released the 11in1card reader with USB2.0 interface, that intends to cover all our needs, especially since it supports almost all available memory card formats. Low priced, TraxData's 11in1 Card Reader is a very attractive choice.
- Features/Package
The TraxData 11in1 Card reader supports reading/writing for 11 memory card formats and uses the USB2.0 connection interface.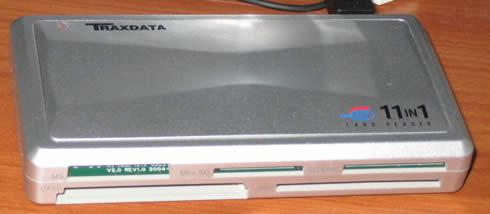 The supported memory card formats are:
CompactFlash Type I&II (CF)
MicroDrive (MD)
SecureDigital (SD)
MiniSD
SmartMediaCard (SMC)
MultiMediaCard (MMC)
RS-MMC
Memory Stick (MS)
Memory Stick Pro
Memory Stick Duo
The TraxData 11in1 Card reader package is quite small and includes the memory card reader itself, a USB2.0 connector cable and a CD with drivers for Linux, Mac and Win98/2000.
This means your card reader can be used with the most popular operating systems. The reader takes its power from the USB2.0 interface so no external power is required. According to TraxData, the 11in1 reader has 2 years warranty and sells at the recommended retail price of €17.99.
We are not so sure about which chipset is being used in the particular models, since discovering its internal secrets wasn't very easy...