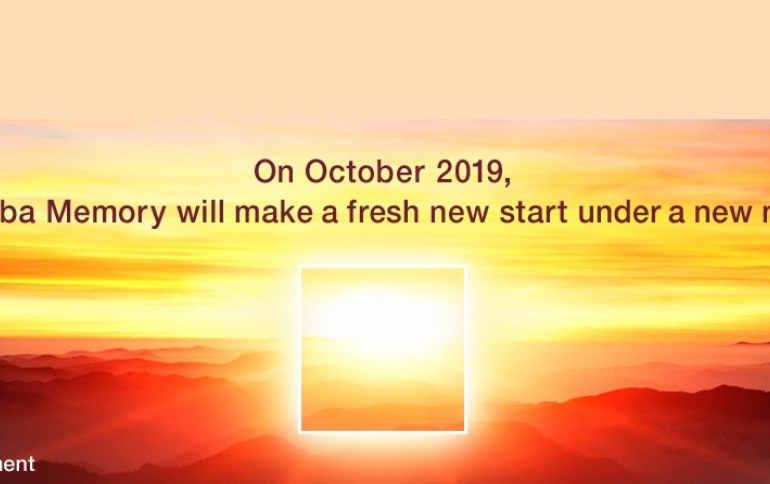 Toshiba Memory to be Rebranded to Kioxia
Toshiba Memory will rebrand under a new corporate name effective on October 1, 2019.
The new corporate name, Kioxia Holdings Corporation (pronunciation : kee-ox-ee-uh), is a combination of the Japanese word kioku meaning "memory" and the Greek word axia meaning "value" – which forms the foundation of the company's vision. The name Kioxia will be adopted for the names of all Toshiba Memory companies,largely effective on the same date.
Toshiba Memory Corporation (TMC) has driven the technological evolution of flash memory from its invention of NAND flash memory in 1987 through its introduction of the latest 3D flash memory, BiCS FLASH.
TMC says that Kioxia expresses the company's mission to "uplift the world with 'memory,'" which forms the foundation of the company's vision.

"The word "memory" means much more than simply recorded data. To us, it represents the comprehensive collection of emotions, experiences and ideas beyond digital information gathering. In close collaboration with stakeholders, Kioxia will unleash the full potential of "memory" to deliver value to people worldwide, said Yasuo Naruke, President and CEO, Toshiba Memory Holdings Corporation.
Toshiba Memory Holdings aims to contribute to the value of Toshiba Memory Corporation and its respective subsidiary companies, by strengthening governance through enhanced management and oversight of group companies and by assuming responsibility for group strategy including M&A, resource allocation, risk management and fund raising.
Kioxia will have an initiall 10 billion yen capital, and its main shareholders will be BCPE Pangea Cayman, L.P. (49.9%), Toshiba Corporation (40.2%) and
Hoya Corporation (9.9%).
The following companies will be renamed as follows:
Toshiba Memory Corporation: Kioxia Corporation
Toshiba Memory Systems Co., Ltd.: Kioxia Systems Co., Ltd.
Toshiba Memory Advanced Package CorporationL: Kioxia Advanced Package Corporation
Toshiba Memory Etoile Corporation: Kioxia Etoile Corporation
Toshiba Memory Iwate Corporation: Kioxia Iwate Corporation
Toshiba Memory America,Inc.: Kioxia America,Inc.
Toshiba Memory Europe GmbH: Kioxia Europe GmbH
Toshiba Memory Asia, Limited: Kioxia Asia, Limited
Toshiba Memory Singapore Pte.Ltd.: Kioxia Singapore Pte.Ltd.
Toshiba Memory Taiwan Corporation: Kioxia Taiwan Corporation
Toshiba Memory Semiconductor Taiwan Corporation: Kioxia Semiconductor Taiwan Corporation
Toshiba Memory Korea Corporation: Kioxia Korea Corporation
Toshiba Electronics (China) Co., Ltd.: Kioxia (Shanghai) Co., Ltd.
OCZ Israel Ltd.: Kioxia Israel Ltd.
OCZ Storage Solutions Ltd.: Kioxia Technology UK Ltd.