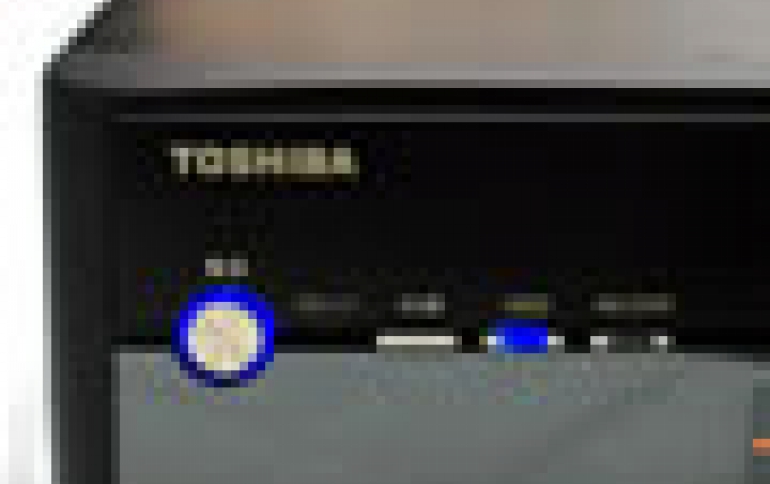 Toshiba Launches New Hard Disk Recorder with HD DVD in Japan
Toshiba today announced two high-end additions to its VARDIA digital video recorders (DVR) that add the capabilities of HD DVD recordable drives to a wide range of functions. The new DVR introduce the ability to record two digital HD television programs simultaneously, and also integrate Toshiba's new "VARDIA engine", which supports significant enhancements to ease of use and performance, including faster drawing of the graphic user interface (GUI) and improved HD DVD disc operation. The HD DVD VARDIA RD-A600 and HD DVD VARDIA RD-A300 will be rolled out in the Japanese market from the end of June. Toshiba did not give any pricing details for the new recorders, although the 600 GB model is expected to be available in Japan for around 150,000 Yen ($1,231).
The 600-gigabyte (GB) RD-A600 can record about 78 hours of digital HD broadcasts (approx.17Mbps in TS mode) to its hard drive in HD picture quality, while 300GB RD-A300 can record about 39 hours. Both integrate an HD DVD recordable drive that can directly record HD television programs to an HD DVD-R disc or transfer HD images stored in HDD to an HD DVD-R disc. Like standard DVR, the new recorders allow users to build libraries of their favorite content, but add the ability to do so in high definition detail, by storing HD content to HD DVD-R discs.
The new VARDIA DVR also supports playback of HD DVD, DVD and music CDs. An integrated 1080p compatible up-scaler from Anchor Bay Technologies, Inc., can up-convert standard definition DVD to an output resolution of 1080p.
The integrated HD DVD recordable drive supports recording of HD television programs to HD DVD-R discs and playback of HD DVD content software. A dual-layer 30GB HD DVD-R DL disc can store nearly 4 hours of digital terrestrial broadcasts. This can be extended to as much as 4.5 hours, depending on the channel, by eliminating subordinate information from data broadcasts. The supported sound is Dolby Digital Plus, Dolby TrueHD, DTS-HD 5.1ch and L-PCM 5.1ch. Surround sound can be decoded and output in L-PCM through HDMI output.
By integrating digital tuners into two systems covering the full range of HD broadcasting sources?terrestrial, broadcast satellite (BS) and 110 communications satellite (CS) broadcasts?the new VARDIA DVR can record two digital HD broadcasts simultaneously.
Connection to other Toshiba DVR that support i.LINK allows HD content stored in the hard disk of the second recorder to be moved to a hard disk of the new recorders and stored on an HD DVD-R disc.
With the integrated feature of "Net de Server HD", the new DVRs support network streaming of HD content stored in them, including copy restricted content, for viewing on Toshiba REGZA Z2000 series LCD TVs supporting DTCP-IP.
Both RD-A600 and RD-A300 support AACS (Advanced Access Content System) content protection system.
Note that an HDTV or HD display equipped with D3/D4 input, HDCP capable HDMI input, or component video input is required for high-definition viewing. Other TVs or displays can display content, but not in high definition. Also, some content may not playback or playback in lower resolution on equipment with D3/D4 and component video output.