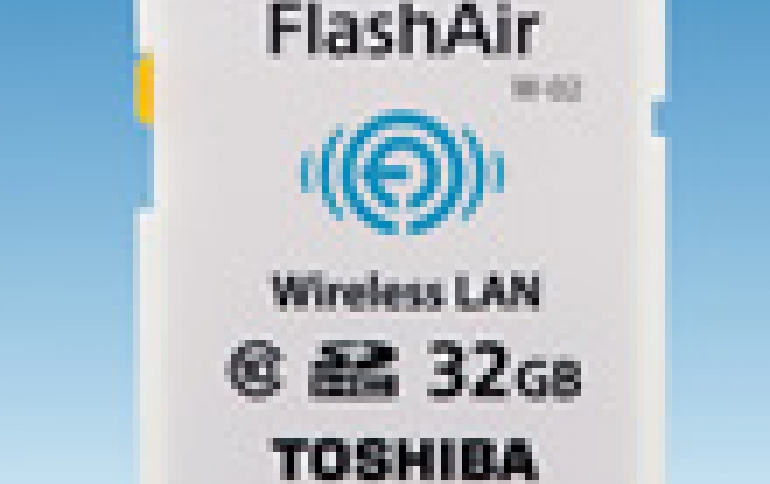 Toshiba Introduces 32 GB FlashAir SDHC Memory Card
Toshiba expanded its line-up of "FlashAir", the SDHC memory card with embedded wireless LAN communications, with the launch of the latest 32 GB card. The new card will go on sale on November 16th in the Japanese market and at Amazon.com, Newegg.com, and on toshiba.com/us/ for $79.99 MSRP for 16GB and $99.99 for 32GB.
"FlashAir" is an SDHC memory card that incorporates a wireless LAN chip set plus an antenna for wireless communications. By serving as its own wireless LAN access point, the FlashAir II allows users to easily share multimedia content through the users? PC, smartphone or tablet.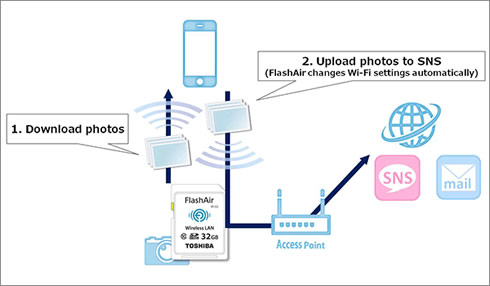 The new 32 GB card has a new feature, "Internet pass thru mode", which enables Internet connection even while the smartphone is connected to FlashAir, by using other access points, such as the wireless LAN router in the home. With the new feature, users do not have to manually change the wireless network settings of smartphones when downloading photos from the card to smartphones, uploading photos to SNS from a smartphone, or sending email. The new feature can also be used in the current FlashAir W-02 line-up (product names: "SD-WC008G" and "SD-WC016G") by updating the firmware of the card.
FlashAir W-02 Specifications
- Model: SD-WD032G
- Capacity: 32GB
- Speed Class: Class 10
- Compliant Standard: SD Memory Card Standard Ver.4.00
- Wireless LAN Standard: IEEE802.11 b/g/n
- Wireless LAN Security: WEP, TKIP, AES(WPA, WPA2)
- Power Supply Voltage: 2.7-3.6V
- Operating Environment: Temperature: -25°C to 85°C
- Relative humidity: 95% at 25°C (no condensation)
- Dimensions: 32.0mm(L)?24.0mm(W)?2.1mm(T)
- Weight: Approx.2g