TDK Showcases 100GB BD-R Disc
The 7th Data Storage Expo & Conference, currently being held in Tokyo, Japan, where TDK demonstrated its four layer Blu-Ray Recordable disk (BD-R), capable of holding up to 100GB of content. The disk features the DURABIS 2 hard-coating technology from TDK, in order to physically protect a Blu-Ray disc's surface from scratches, dust and other factors that could cause damage.
The Blu-ray Disc Assosiacion has not yet started the standardization procedures for this kind of media, and according to TDK, the four-layer BD-R disc is currently a research level prototype. TDK held a BD-R recording test, using a Pioneer BD-R/RE prototype recorder. The TDK disc was recorded at 2x, which translates to 72Mbps transfer rate.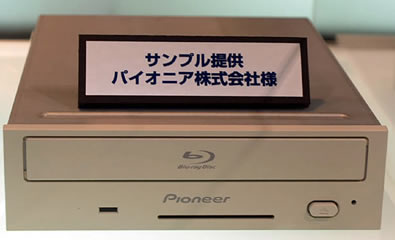 Single layer (25GB) and dual layer (50GB) BD-R and BD media were also available at the TDK booth, featuring the DURABIS 2 coating technology.
Additional information for the Data Storage Expo is available at
http://www.watch.impress.co.jp/av/docs/20050630/dsexpo.htm
.