TCL Expands Smartphone Portfolio with 10-Series Lineup
Today, TCL Communication is officially debuting its first series of TCL-branded smartphones, the TCL 10 Series.
This lineup of affordable Android devices will leverage TCL-made high-resolution displays and the company's NXTVISION visual technology, and each device will come with a quad rear-camera setup, Qualcomm Snapdrago™ processors, and more flagship-style features, all available for under $500 USD. The 10 Series includes TCL's first 5G smartphone and the company's first device that uses a TCL-made curved AMOLED display.
Each of the TCL 10-Series smartphones takes advantage of TCL's ecosystem by using TCL-built screens and TCL NXTVISION, a proprietary display and camera visual technology to bring images to life with truer color, clarity and contrast enhancements in real-time. The 10 Series also has an SDR to HDR real-time conversion feature, providing HDR-like video enhancement with brighter highlights, darker shadows, increased contrast and amplified color.
TCL 10 5G
The company's first 5G-enabled smartphone, the TCL 10 5G is designed to bring the benefits of 5G connectivity to consumers looking for something modern and affordable. Powered by Snapdragon 7-series 5G SoC, the TCL 10 5G delivers increased data bandwidth for faster uploads, downloads and upgraded Wi-Fi connection stability. The TCL 10 5G comes with a 6.53-inch FHD+ DotchTM display, providing a 91 percent screen-to-body ratio.
On the back, the TCL 10 5G sports a quad camera setup that includes a 64MP main camera, a 118-degree ultra wide-angle camera, a macro camera that lets users take super close-up shots at only 2cm away, and a depth camera for professional quality photos with Bokeh. The TCL 10 5G's front facing 16MP camera ups the selfie game with its 4-in-1 big pixel technology that automatically combines four pixels into one to produce brighter selfie photos and improve low-light capabilities.
Additionally, the TCL 10 5G comes with a large battery boasting a full day of phone use and Quick Charge 3.0 fast charging technology. It also features OTG Reverse Charging, turning the phone into a portable power bank to charge small items or help a friend in need if their device is low on battery. The TCL 10 5G will be available in select regions around the world later this year for €399/£399.
TCL 10 Pro
Featuring a TCL-made 6.47-inch FHD+ curved AMOLED display, the 2020 iF Design Award- and 2020 Red Dot Award-winning TCL 10 Pro delivers a wide range of color clarity and sharp picture resolution. Its curved design allows the screen to "fall" off the edge with minimal bezels to achieve a high screen-to-body ratio and includes Edge Bar shortcuts to quickly access apps one-handed. The TCL 10 Pro also includes fingerprint on display that sits under the screen for users to quickly unlock their phone. By leveraging NXTVISION technology to produce nearly accurate colors and enhanced image and video quality, the TCL 10 Pro joins a select group of smartphones on which Netflix is available in HDR10.
AI-powered imaging technology in the TCL 10 Pro produces photos and selfies rich in clarity and color in low light. The 10 Pro comes with four rear cameras, including a 64MP high-res camera, 2.9μm big pixel low-light video cam, 123-degree super wide-angle camera and macro camera, as well as a 24MP front-facing camera. Additionally, it features a hybrid auto focus solution for a fast and crisp shot day or night. For more creative videographers, the TCL 10 Pro includes super low light video and super wide-angle video capabilities.
The TCL 10 Pro's curved design also boasts symmetrical details, a matte finish on the back for a smooth in-hand feel and an anti-glare screen with a sleek profile. The TCL 10 Pro comes in Ember Gray and Forest Mist Green color options, and will be available in Europe, North America, Australia, and the United Kingdom starting in Q2 2020 for €449 EUR/$449 USD/£399 GBP/$899 AUD.
TCL 10L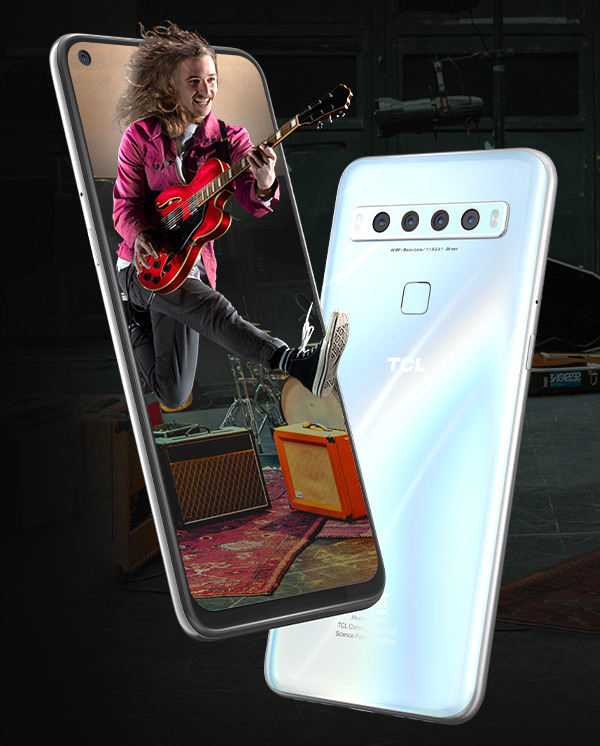 The TCL 10L offers quality features and design that can fit even the smallest budget. It pairs 6GB RAM with a Qualcomm Snapdragon 665 processor that comes with an AI platform. The TCL 10L features a 6.53-inch FHD+ Dotch display with a 91 percent screen-to-body ratio. Powered by NXTVISION with a dedicated display engine, users can take visuals to the next level with truer color accuracy and real-time visual enhancements for greater contrast. The TCL 10L also comes with four rear cameras, along with a 16MP selfie camera that are all powered by AI technology to recognize and enhance scenes and objects for the best creations. TCL 10L also features Stop Motion video, enabling fun and creative stop motion video directly with the phone without post editing needed.
The TCL 10L comes in nature-inspired Arctic White and Mariana Blue color options, and will be available in Europe, North America, Australia, and the United Kingdom starting in Q2 2020 for €249 EUR/$249 USD/£199 GBP/$499 AUD.
TCL Smart Experiences
All three TCL 10-Series smartphones are packed with features and shortcuts so users can share content and customize their smartphones:
Dynamic TCL UI: The TCL UI offers lively interfaces, interaction and customizable features for additional ease of use.
Eye Comfort Display: With the user's vision health in mind, TCL makes it easy on the eyes with eye care modes such as Adaptive Tone, Reading Mode and Eye Comfort Mode.
Smart Key: Access commonly used apps and features with a dedicated, customizable button. The button can be customizable in three ways - single, double, and long press - to activate apps such as the camera or Google Assistant, as well as functions such as cleaning up background apps.
Super Bluetooth: Push the limits of audio-streaming by connecting up to four Bluetooth speakers or headphones to share music with friends.
New Smart Home Devices
TCL Communication also announced four new smart devices, including the brand's first ultrafast 5G CPE, true wireless earphones, wireless heart rate monitoring sport headphones, and a 4G connected smartwatch for kids.
TCL LINKHUB 5G CPE
TCL LINKHUB 5G CPE is designed to be a lightweight, portable router to access next-gen network speeds at home and at work. The device supports smart dual-band Wi-Fi with 4X4 MU-MIMO technology which greatly extends coverage, maintains stable high-speed connections, and supports more than 1,000 simultaneous connections.
The LINKHUB 5G CPE is equipped with the Qualcomm Snapdragon X55 chipset and supports 5G connectivity up to 2.8Gbps and the latest Wi-Fi 6 technology for speeds up to 3.6Gbps, enough bandwidth for users to download a 1Gbps HD movie in just 3 seconds. The LINKHUB 5G CPE comes with Easy Mesh, which allows users to easily connect with their mesh router system, to extend Wi-Fi coverage throughout multi-story homes and large spaces to deliver ultrafast Wi-Fi without dead zones. It also supports both Bluetooth and ZigBee for easy set up and can manage smart home devices through TCL Communication's dedicated app.
The TCL LINKHUB 5G CPE will be available in Europe, U.S., China, Asia and Pacific, Middle East and Africa beginning in July 2020 from €499.
SOCL500TWS & ACTV500TWS wireless earphones
Cable-free, the SOCL500TWS & ACTV500TWS wireless headphones come with 5.8mm speaker drivers to deliver clear sound quality with rich bass. The headphones leverage the inner ear for support - unlike other devices on the market that rely solely on the ear canal, resulting in discomfort when worn for extended periods. Additionally, the ACTV500TWS comes with Comply Foam Tips to ensure a snug, custom in-ear fit. The SOCL500TWS is IPX4-rated with its water-repellent casing and microphone mesh, while the ACTV500TWS is IPX7 certified, meaning it is completely water and sweat resistant.
The SOCL500TWS has a total playtime up to 26 hours, with 6.5-hour continuous playback and 19.5 hours of additional charge from the case. The ACTV500TWS has a total playtime up to 33 hours, with 6.5-hour continuous playback and 26.5 hours of additional charge from the case. Both headphones have wireless charging capabilities, including a quick charge feature that can generate one hour of play time with just 15 minutes of charge.
The SOCL500TWS is available in four colors, including Blue Ocean, Sunset Violet, Sunrise Orange, and Phantom Black, while the ACTV500TWS is available in two colors, Copper Dust and Copper Ash. The SOCL500TWS & ACTV500TWS will be available in Europe and the U.S. starting in Q1 2020 for €79.99/$79.99 and €99.99/$99.99 respectively.
ACTV200BT heart rate monitoring sports earphones
The ACTV200BT uses ActivHearts, a multi-sensor system built into the acoustic tube of the right earpiece, to provide an accurate heart rate reading in real-time. When paired with common third-party smartphone apps, the earphones can provide an audio reading on the spot so users can focus on exercising without being distracted by having to look at their devices. The earphones are also IPX4 certified.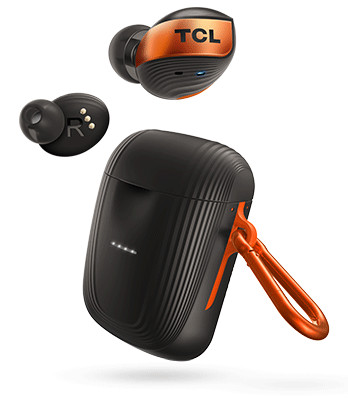 Designed with an 8.6mm speaker driver and passive noise isolation, the ACTV200BT delivers acoustically accurate and balanced sound that boasts a long playtime of up to 14 hours. The ACTV200BT also supports Bluetooth 5.0 and fast charging for up to 2 hours of playback time after only 15 minutes of charge time. The ACTV200BT comes in two colors, Copper Dust and Copper Ash, and will be available in Europe and the U.S. starting in Q1 2020 at €79.99/$79.99.
MOVETIME Kids Watch MT43K
The new MOVETIME Kids Watch MT43K is perfect for parents looking for a device that will keep them connected with their children. Not only is the watch fun and easy to use for kids, parents can also monitor their children's location, receive instant notifications when their children exit a preset safe zone or push the SOS button, and establish immediate contact with its hands-free 4G two-way calling and voice messaging.
The watch also acts as a daily activity tracker that counts steps, calories burned and distance walked, allowing parents to encourage their child to live an active lifestyle. Moreover, parents can also track their children's location history and easily navigate to their child with third party maps. Parents will also have peace of mind as the watch is Children's Online Privacy Protection Act (COPPA), California Consumer Privacy Act (CCPA) and General Data Protection Regulation (GDPR) compliant, giving its users full data and privacy protection.
Children will also have the added benefit of engaging with their friends through Bluetooth, where they can add their friends and interact with them. Parents will still have control with School Mode, a feature that allows parents to dictate when kids can use their watches during class time.
The MOVETIME watch comes with a 1.4-inch AMOLED touch display that is water and dust resistant, as well as a voice-activated assistant to call contacts or open applications. The watch comes with a long-lasting battery that has a standby time of up to four days or usage time of up to two days.
The watch will come with multiple colorful hypoallergenic replaceable bands, and will be available in North America and Europe later this year with prices set at €164/$179.