Steve Jobs Unveils the iPhone
It might be anti-climactic to some - since the iPhone had been the most talked about unconfirmed product in Apple's history -- but the iPhone has been announced today. Chief Executive Steve Jobs said the iPhone, which also will be available in a 4-gigabyte model for $499, will ship in June in the United States. The phones will be available in Europe in the fourth quarter and in Asia in 2008.
Apple said Cingular Wireless, the No. 1 U.S. wireless network, will be the company's U.S. cellular partner.
Cingular said the contract is "multi-year and exclusive."
The iPhone and AppleTV, the newly renamed device that allows consumers to send video to their home entertainment systems, could prove to be big boosts for the company.
Jobs also said Apple will drop "Computer" from the company's name.
iPhone
Although we are told that Cisco has the rights to the name "iPhone," this is the name by which this previously unseen device has been known for what seems like years.
The 11.6 millimeter phone includes a 3.5-inch 480 x 320 touchscreen display with multi-touch support and a proximity sensor to turn off the sensor when it's close to your face and a 2 megapixel camera. Perhaps most amazingly, though, it somehow runs OS X with support for Widgets, Google Maps, and Safari, and iTunes (of course) with CoverFlow out of the gate. A partnership with Yahoo will allow all iPhone customers to hook up with free push IMAP email. Apple quotes 5 hours of battery life for talk or video, with a full 16 hours in music mode -- no word on standby time yet.
The iPhone is thinner than some of the cell phone industry's sleekest devices, such as Motorola's RAZR.
The iPhone can also connect to the Internet using Wi-Fi wireless technology, and has Bluetooth, the short-range wireless technology used to support wireless headsets or link to other devices such as printers.
Apple also released a new Bluetooth headset and a new pair of Headphones which take advantage of the new Cellular capability of the iPhone. Keeping in line with Apple's minimalist design ethos, the Bluetooth headset appears from the side as a simple, thin, 2001-esque, black slab. It only has one button (on the top) and is apparently "incredibly small."
Apple has also unveiled a new set of stereo headphones that accommodates the iPhone's cellular functionality. Similar to wire based hands-free kits, it has a small white box halfway up the wire with an integrated microphone and a "squeeze" switch for answering and hanging-up calls. No word on pricing and availability yet.
AppleTV
Jobs also unveiled a separate device that will allow users to transfer video from their computers to televisions.
The set-top unit known as Apple TV enables viewers to stream digitally downloaded video from a desktop or laptop computer to a television, complementing Apple's online film service which is available through its iTunes store. The device is capable of displaying 720p HD video and uses the new 802.11n draft standard, said jobs ? a faster wireless networking technology.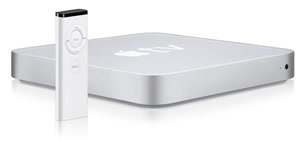 Apple TV comes equipped with a 40-gigabyte hard drive capable of storing up to 50 hours of video programming. It will be able to store videos, photos and music sent from computers within wireless range. The device is also equipped with an HDMI and a component interface.
The video box will be available in February and be priced at 299 dollars.
The 40 gigabyte machine will cost $299, the same price Jobs forecast back in September.
Jobs also said movies from Paramount films would be sold in on Apple's iTunes online music store in addition to titles from Disney .
The new iPhone could help Apple bolster its dominant position in the market for portable digital media devices. The iPod now commands more than a 70-percent share of the U.S. market for MP3 digital music players.
Apple has sold more than 70 million iPods since they were introduced and consumers have bought more than 2 billion songs for about 99 cents each on iTunes. More than 220 television shows are also available on iTunes.