1. Introduction
The increasing popularity of AMD processors, has increased the demand for extra cooling solutions beyond that offered by the stock coolers, which in their majority are not adequate for OC. On top, PC case styling has also become a priority for the end users. To "answer" these calls, various manufacturers have released their CPU cooling solutions. Spire is among the better known cooling solution manufacturers with several AMD and Intel based coolers. Today, we will be reviewing one of Spire's latest products, the SP741B3 Diamond CoolII, an AMD based cooler, which among other things, promises to give a cool look to the interior of your PC case.
The Cooler...
The SP741B3 Diamond CoolII basically consists of two parts; the UV-reactive 90mm Spider-Fan and the copper heatsink. The UV-reactive fan will give a cool look to the interior of any PC case with the proper UV light installed. Enough about the "modding" aspect of the cooler and on to the technical.
The fan works at 2300RPM creating a 25.78CFM air flow, while the noise levels are relatively low, at around 21.0 dBA.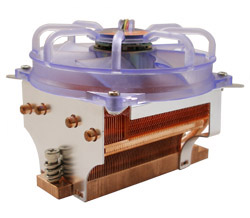 The all new Diamond CoolII
No innovative designs are noticeable here, just the standard design from Spire that we have become used to. Under the Spider-Fan, resides a solid copper heatsink, with 40 fins and four copper heat-pipes which run through the fins to the other end of the heatsink, responsible for keeping the base cool and hence CPU temperatures at low levels.
4 copper heat-pipes are responsible for the heat dissipation...
Here are the detailed specifications as provided by Spire :
Socket 754 / 940 / 939 Cooling kit

Product Name

SP741B3 DiamondCool II

Dimensions

Heat Sink : 89×80×53 mm (l × w × h)
12VDC Fan : 90×90×25 mm

Bearing

Ball bearing

Rated speed

2300 RPM +/-10%

Rated power

1.56 W

Noise level

21.0 dBA

Air flow

25.0

Current

0.13 A

Life hours

Ball: 50.000

Features

Blue transparent spider-fan, 4 heat-pipes, all copper stamped fin technology

Connector

3 pin, mainboard

Application

Athlon 64 ~ 4800+ (K8)
Athlon 64 FX-51 (K8)
Athlon 64 FX-53 (K8)
Athlon 64 FX-55 (K8)
Athlon 64 FX-60 (K8)
Opteron ~ 2.6 (K8)
Sempron ~ 3300+ (K8)

Thermal resistance

0.297 °C/W

Thermal type

Stars-420 white grease (Injection tube)

As Spire informs: All Spire CPU cooling products come with thermal compound either pre-applied onto the cooler or in an injection tube. Compound will begin to function at its optimum potential, after a gradual increase in heat-dissipation, approximately 168 hours (7days) after initial application.
Now, let us move on to the next page and to the installation of the cooler.