2. A Closer Look
Both coolers come in a small box, containing everything that is required for a quick and easy installation. You will find the retention brackets, a back plate and an injection tube with white thermal compound. The following pictures show both packages.
| | |
| --- | --- |
| | |
| KestrelKing V box | KestrelKing VI box |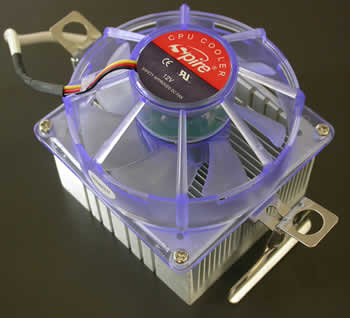 KestrelKing V up close
You can always change the default blue fan with another one, by removing the screws. However, the blue seems pretty nice.
KestrelKing V with the fan detouched from the base.
The KestrelKing V uses a 0.15A cooler. Although there are more powerful fans on the market, this should do the job, since there is no need to have a more powerful fan for 2700 RPM rotation speed.
KestrelKing V blue fan
The entire base of the the KestrelKing VI is copper for the best possible heat transfer and dissipation.
KestrelKing VI fins and copper base
KestrelKing VI up close
This is the temperature sensor that controls the rotation speed depending on the temperature...
KestrelKing VI temperature sensor
and this is the ventilation system of this CPU cooler, with the fan removed.
KestrelKing VI with the fan detouched from the base.
The KestrelKing VI uses a very powerful fan, at 0.45A allowing the fan to increase its rotation speed up to 6000RPM.
KestrelKing V powerful fan