Sony's New NGP handheld to Take on Nintendo DS and Smartphones
Sony today unveiled the NGP, the company's highly anticipated handheld gaming device and the first to feature 3G wireless connectivity. Sony new device could help the company battle with Nintendo's best-selling DS and also fend off competition from smartphones including Apple's iPhone. The new device new device, codenamed "NGP" for Next Generation Portable, will not go on sale until around the year-end.
The new system offers a combination of gaming and social connectivity.
The NGP will come in two versions: one with 3G and WiFi connectivity, and the other with just WiFi.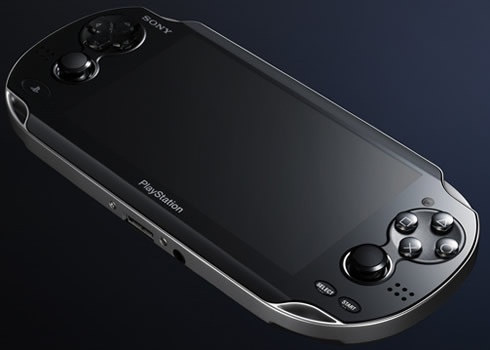 NGP incorporates a multi-touch 5-inch organic light emitting display (OLED) as the front display. A high-performance CPU (ARM Cortex-A9 quad-core)/ GPU (SGX543MP4+) combined with OLED enables rich graphics for both games and other digital entertainment content. The new system also incorporates a unique multi-touch pad on the rear, and together with the front touch display, NGP offers new game play allowing users to interact directly with games in three dimension-like motion, through "touch, grab, trace, push and pull" moves of the fingers.
While succeeding the basic design philosophy of PSP, NGP adopts the Super Oval Design form factor, created to fit comfortably in users' hands. For the first time, a portable entertainment system will feature two analog sticks.
Every game title for NGP will be provided with a space called "LiveArea" where users can share the fun and excitement with other players. Users will have access to the latest information of games provided from SCE and 3rd party developers and publishers through PlayStation Network. Additionally, NGP users will be able to view an "Activity" log that is constantly updated with accomplishments from users who are playing the same game, which in turn can trigger active real-time communication among users.
SCE will also provide location-based services on NGP as part of the basic features utilizing PlayStation Network. The new application called "Near," developed specifically for this service and the network, will be pre-installed in the system to let users find out what their friends in the vicinity are playing now or what they were playing recently. Users can meet their friends and new players virtually, regardless of what games they are playing, simply by sharing their game information across different dimensions of time and distance.
NGP adopts a new game medium, a small flash memory based card, dedicated for NGP software titles. Taking advantage of the flash memory feature, this card can store the full software titles plus add-on game content or the game save data directly on to the card. By adopting flash memory based card, SCE will be able to provide game cards with higher capacity in the future.
NGP will also come equipped with two cameras on its front and rear, as well as three motion sensors, gyroscope, accelerometer and electronic compass.
By the end of the year, Sony also plans to make PlayStation games available on other portable devices running on Google's Android operating system, through an application called PlayStation Suite.
Through this entirely new initiative, users will be able to enjoy PlayStation content on an open operating system for the first time in PlayStation history.
In providing the PlayStation experience on Android based portable devices, SCE will commence a "PlayStation Certified" license program for hardware manufacturers. Through this program, SCE will offer necessary support, including development support as well as logo licensing, to ensure the delivery of PlayStation quality experience across various devices.
On the software front, SCE plans to provide PS Suite content within this calendar year, starting with original PlayStation games (PS one classics). SCE also plans to open PlayStation Store where users will be able to download content in an easy to use environment, directly via the Android based portable devices. Moreover, SCE will provide a new game development environment in an effort to ensure new content is delivered on PS Suite, which will also offer opportunities for a wider base of developers and publishers to further expand their business on various portable devices.
Newly developed content for PS Suite can also be enjoyed on the NGP.