Sony Ericsson Announces New Xperia, Xperia neo And The Xperia PLAY Smartphones at MWC 2011
Sony Ericsson today unveilled the Xperia neo and Xperia pro, two additions to the new generation of Xperia smartphones, as well as the Xperia PLAY. The Gingerbread-based Xperia pro combines an optimized slide-out keyboard with smart functions. Featuring an ergonomically crafted keyboard, Sony Ericsson has focused on integrating the hardware with clever messaging functions. Xperia pro introduces the fast Type & Send functionality eliminating the need to open a dedicated app for each type of message, and Smart Keyboard that triggers predictive messaging actions automatically when the user slides out the keyboard.
Xperia pro is also coming with a set of professional functions such as syncing your email, calendar and contacts in a secure way and the pre-loaded Office Suite Pro lets consumers view and edit office documents directly on the phone.
Both Xperia pro and Xperia neo smartphones feature the Mobile BRAVIA Engine. Sony's Exmor R for mobile sensor enables the capture of high quality pictures and HD videos even in low light. All pictures and videos can be shared on an HD TV in your living room via the built in HDMI-connector.
Both smartphones will launch on the latest version of the Android platform providing access to Google Mobile Services and applications available via the Android market.
Sony Ericsson Xperia neo - Key features
* Exmor R
* Reality display with Mobile BRAVIA Engine
* Built-in HDMI.
* More than 100,000 apps on Android Market
* Google services.
The Sony Ericsson Xperia neo will be available in the following colours: Blue Gradient, Red and Silver.
Sony Ericsson Xperia pro - Key features
* Touch phone with slide-out keyboard and smart functions for fast messaging
* Synch your email and edit office documents on the go
* Sony Mobile BRAVIA Engine and Exmor R for mobile
* HDMI. Connect to an HD TV or a projector
* Google services
The Sony Ericsson Xperia pro will be available in the following colours: Black, Red, Silver
Sony Ericsson Xperia neo will be available globally in selected markets from end Q1 and Sony Ericsson Xperia pro from end Q2.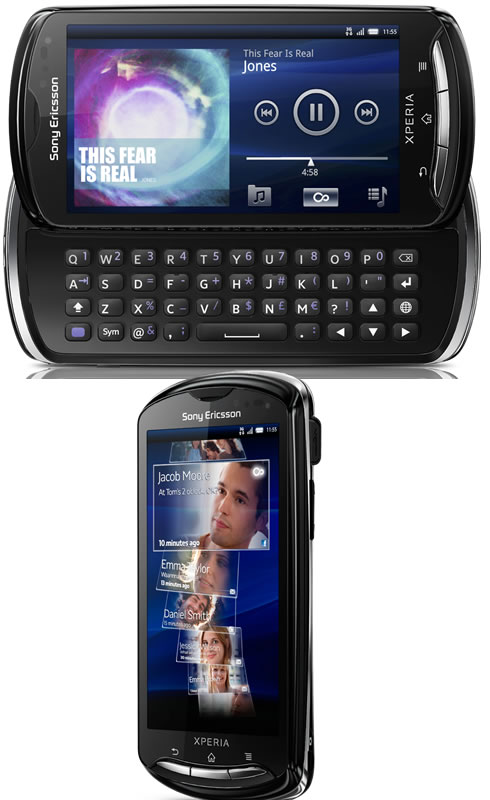 Xperia PLAY
Sony Ericsson today also officially announced the Xperia PLAY, the latest phone in its Xperia range of Android based smartphones. The so-called "PlayStation phone" is coming to Verizon Wireless in April, the CEO of phone maker Sony Ericsson said Sunday.
In portrait mode, the Android smartphone offers all the benefits that users have come to expect from Sony Ericsson's existing range of Xperia smartphones with a 5 megapixel camera, a 4" multi-touch screen and great social networking features.
However, slide out the gaming control and users enter a new world of mobile gaming. The slide out game pad reveals a digital D pad, two analogue touch pads, two shoulder buttons and the four PlayStation icons: circle, cross, square and triangle. Qualcomm's Snapdragon processor with a 1Ghz CPU and embedded Adreno GPU graphics processor deliver 60fps play-back 3D mobile gaming and Web browsing.
XperiaTM PLAY will run on Gingerbread (version 2.3), the latest version of Google?s Android platform. The XperiaTM PLAY will also be the first PlayStation Certified device. This means it will have access to PlayStation game content provided through the PlayStation Suite initiative, currently under development by Sony Computer Entertainment and due to launch later this calendar year.
Sony Ericsson has partnered with key publishers in the gaming industry to deliver an ecosystem at launch and post launch with many new titles available via the Android Marketplace. Franchises coming to Xperia PLAY includes EA's Need For Speed, Sims 3 and a world-first multiplayer version of FIFA 10 for mobile. GLU Mobile/Activision will be bringing Guitar Hero while Gameloft's titles include Assassin's Creed and Splinter Cell. Sony Ericsson is also partnering with Unity Technologies, using its development platform, to ensure a continuous flow of 3D game titles.
A pre-loaded application will also enable users to discover and download titles that have been optimised for game play on Xperia PLAY, access recently played games and see information about the games they have downloaded.
Sony Ericsson Xperia PLAY will be available globally in selected markets from March 2011
Sony Ericsson Xperia PLAY
Camera
* 5.1 megapixel camera
* Auto focus
* Flash / Photo light
* Geo tagging
* Image stabiliser
* Send to web
* Touch focus
* Video light * Video recording
* Video blogging
Music
* Album art
* Bluetooth stereo (A2DP)
* Google Music Player
* Music tones (MP3/AAC)
* PlayNow service
* Sony Ericsson Music player
* Stereo speakers
* TrackID music recognition application
Internet
* Android Market
* Bookmarks
* Google search
* Google Voice Search
* Pan & zoom
* Web browser (Webkit)
Communication
* Call list
* Conference calls
* Facebook application (from Android Market)
* Google Talk
* Noise Shield
* Polyphonic ringtones
* Speakerphone
* Sony Ericsson Timescape
* Twitter application (from Android Market)
* Vibrating alert
Messaging
* Android Cloud to Device messaging (C2DM)
* Conversations
* Email
* Google Mail
* Instant messaging
* Picture messaging (MMS)
* Predictive text input
* Sound recorder
* Text messaging (SMS)
Design
* Auto rotate
* Keyboard (onscreen, 12 key)
* Keyboard (onscreen, QWERTY)
* Picture wallpaper
* Touchscreen
* Wallpaper animation
Entertainment
* 3D games
* Dedicated gaming keys
* Flash Lite
* Gesture gaming
* Motion gaming
* Video streaming
* YouTube
Organiser
* Alarm clock
* Calculator
* Calendar
* Document editors
* Document readers
* E-Manual
* Flight mode
* Google Calendar
* Google Gallery 3D
* Infinite button
* Phone book
* Set-up Wizard
* Widget manager
Connectivity
* 3.5 mm audio jack
* aGPS
* Bluetooth technology
* DLNA Certified
* Google Latitude
* Google Location Service
* Google Maps with Street View
* Media Transfer Protocol support
* Micro USB Connector
* Modem
* Synchronisation via Facebook
* Synchronisation via Google Sync
* Synchronisation via Microsoft Exchange ActiveSync
* Synchronisation via Sony Ericsson Sync
* USB 2.0 high speed support
* Wi-Fi
* Wi-Fi Hotspot functionality
Google services
* Android Market Client
* Gmail
* Google Calendar
* Google Gallery 3D
* Google Latitude
* Google Maps with Street View
* Google Media Uploader
* Google Music Player
* Google Phone-top Search
* Google Search widget
* Google Sync
* Google Talk
* Google Voice Search
* Set-up Wizard
* YouTube
Screen
* 16,777,216 colour TFT
* Capacitive multi-touch
* 4 inches
* 480 x 854 pixels (FWVGA)
Accessories
* In-Box:
* Xperia PLAY
* Battery
* Stereo portable handsfree
* 8GB microSD memory card
* Charger
* Micro USB cable for charging, synchronisation and file transfer
* User documentation
Facts
* Size: 119 x 62 x 16 mm
* Weight: 175 grams
* Phone memory: 400 MB
* Memory card support: microSD, up to 32 GB
* Memory card included: 8GB microSD
* Operating system: Google Android 2.3 (Gingerbread)
* Processor: 1 GHz Scorpion ARMv7
Talk time and networks
* Networks
* Talk time GSM/GPRS: Up to 8 hrs 25 min
* Standby time GSM/GPRS: Up to 425 hrs
* Talk time UMTS: Up to 6 hrs 25 min
* Standby time UMTS: Up to 413 hrs
* Talk time CDMA2000?: Up to 7 hrs 40 min
* Standby time CDMA000: Up to 405 hrs
* Game play time: Up to 5 hrs 35 min
* MP3 playback: Up to 30 hrs 35 min
* Networks
* UMTS HSPA 800, 850, 1900, 2100
* GSM GPRS/EDGE 850, 900, 1800, 1900
* UMTS HSPA 900, 2100
* GSM GPRS/EDGE 850, 900, 1800, 1900
* CDMA2000, cdmaOne, EVDO
Colour
* Black
* White