Solid State Drives At Computex 2012
PLDS, Corsair and OCZ Technology showcased their latest solid-state drives (SSD) last week at Computex show in Taipei.
Corsair
Corsair showacsed its new the Neutron Series solid-state drives, the first consumer SSDs to feature the LM87800 6Gb/s SSD controller from Link_A_Media Devices (LAMD).
Also available in an extreme performance Neutron GTX model, an SSD based on MLC NAND flash memory manufactured by Toshiba, which promises to bring professional-grade performance and reliability to PC enthusiasts.
Available in capacities of 120GB, 240GB and 480GB, Neutron Series GTX SSDs are designed with toggle NAND flash memory to deliver up to a super-high 90,000 random read and write IOPs (input/output operations per second). These drives also provide superior sequential speeds of up to 555 MB/s read and 500 MB/s write. The standard Neutron Series models, available in 120GB and 240GB capacities, provide up to 90,000 random read IOPs and 85,000 random write IOPs with sequential speeds of up to 555 MB/s read and 370 MB/s write.
All Neutron Series models incorporate LAMD's on-the-fly error correction and NAND management technologies which improve the endurance of onboard flash memory. The Neutron Series GTX drives also include adaptive DSP technology which maintains performance throughout the lifetime of the SSD. Neutron Series and Neutron Series GTX models are backed with a 5 year warranty.
Neutron Series SSDs promise to provide high read and write speeds with both compressed and non-compressible data regardless of file type.
The new SSDs bring broad compatibility for desktop and notebook PCs thanks to their standard 2.5" form factor and slender 7mm height. The thin design fits most standard notebooks as well as the latest generation of slim notebook designs. The drives also come with a 3.5" adapter to allow mounting in desktop PC drive bays. Neutron Series also support the SATA 6Gb/s and SATA 3Gb/s standards as well as the TRIM command s.
Neutron Series SSDs are expected to be available in July.
OCZ Technology
For business, server, and OEM clients, OCZ showcased PCI Express (PCIe) SAN acceleration and replacement solutions, and unveilled the impending Intrepid 3 SATA III SSD Series based on the Everest 2 architecture.
Live demos included both the current Z-Drive R4 CloudServ PCIe SSD that delivers over one million IOPS, and the Z-Drive R5 Series based on the co-developed OCZ-Marvell Kilimanjaro platform.
The Z-Drive R5 features the jointly developed "Kilimanjaro" OCZ and Marvell native PCIe to NAND flash controller platform (88NV9145-OCZ), allowing for completely scalable performance and redundancy while eliminating the need for a separate storage controller.
The native PCIe Z-Drive R5 ahs been designed to accelerate database, enterprise, and virtualization applications.
It is equipped with eight controllers and will be using SLC, MLC or eMLC mempry type, offering a total capacity of up to 12TB. It is also the first SSD to implement a PCI Express Gen3 interface.
Performance figures are impressive: 3GB/sec maximum sequential read / write, up to 775,000 IOPS for 4K random write. OCZ has not clarified when this drive will reach the market.
OCZ also showcased the VXL Storage Accelerator software that enables large scale deployment of a virtualized environment for businesses to eliminate the need for SANs in a wide range of enterprise IT infrastructures.
For client storage, OCZ showcased the flagship Vertex 4 SATA III SSD, along with the upcoming 'Lightfoot' portable SSD designed with the Intel Thunderbolt platform.
The new Agility 4 SSD series is based on asynchronous MLC NAD and promise to deliver a balance of 6Gbps SATA III interface speed, high input/output operations per second (IOPS) performance, and enterprise-grade endurance and reliability. Utilizing OCZ?s Indilinx Everest 2 controller platform (first introduced in the flagship Vertex 4 SSD series), Agility 4 SSDs offer a cost-effective alternative to other SATA III SSD solutions.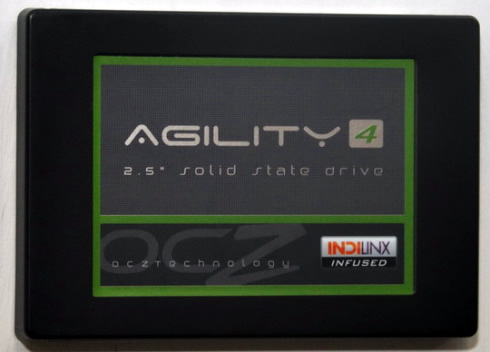 The Agility 4 has been optimized to perform fast in real-world compressible and incompressible workload performance. The series promises to deliver transfer rates of up to 400MB/s, and up to 85,000 random write IOPS. Available in a boot-drive sized 64GB model, up to 512GB capacity for mass storage, Agility 4 SSD solutions are backed by a 3-year warranty.
The portable Lightfoot series of SSDs adopt the Kilimanjaro platform also adopted at the company's Z-Drive R5, offering fast speeds in RAID 0 and RAID 2 configurations. Its sequential read / write speeds are up to 750MB/sec, while random IOPS will reach 100,000 IOPS. It will be available capacity 128GB, 256GB, 512GB and of course, it will offer a Thunderbolt connection. It's price and release date has not yet been decided by OCZ.
OCZ has also on display the "Vertex 3 Low Profile" SSDs, drives based on the Vertex 3 platform coming with a 7mm profile in order to fit into ultrabooks. They will be available this summer.
The new "Vertex Plus R2" series includes entry-level SSDs based on the Indilinx controller. The SSDs use asynchrnous MLC NAND flash memory and come with a SATA 3Gbps interface. Performance figures provided by OCZ include up to 255MB/sec for transfer rate, up to 22,000 IOPS for random read of small files (up to 4KB,) and a 12,000 IOPS for 4K random write.
PLDS
(Philips & Lite-On Digital Solutions (PLDS) has exhibited the "M5S" SSD under the Plextor brand. The new series uses Marvell's "88SS9174" controller and MLC NAND flash memory manufactured by Micron Technology.
The M5S will offer a sequential read speed of up to 520MB/sec, 380MB/sec for sequential write, up to 70,000 IOPS for random writes and up to 73,000 IOPS for random read.
The mainstream SSD series is backed by a 5-year warranty and will be available in late June at 64GB, 128GB and 256GB versions.