Smartphone Shipments Boosts LG Electronics Earnings, Cinema 4K Monitor Introduced
LG Electronics on Wednesday said its July-September operating profit more than doubled from a year earlier as earnings from its mobile business surged. Seperately, the company unveiled its new 4K Monitor (model 31MU97) and announced development plans for both quantum dot and OLED display TV technologies. The South Korean company announced unaudited third quarter consolidated revenues of KRW 14.92 trillion (USD 14.54 billion), an increase of 7.4 percent year-over-year, and operating profit of KRW 461.3 billion (USD 449.61 million), more than double the figure from the same period a year ago. The company's earnings reflected strong performance from its mobile business which saw record smartphone sales in the third quarter with sales of 16.8 million units.
LG's Home Entertainment segment reported third-quarter revenues of KRW 4.71 trillion (USD 4.59 billion), a slight decline of 3 percent from the same period last year. Operating profit of KRW 130.5 billion (USD 127.19 million) increased 5 percent from the same quarter last year due to better product mix. Sales of LCD TVs increased year-over-year in regions such as North America, Europe, Asia and the Middle East. LG expects sales of 4K Ultra HD TVs and commercial digital signage products to grow, while market demand for monitors and AV products is expected to slow.
LG's chief financial officer said on Wednesday that the company will develop both quantum dot and OLED display technologies for its television business. Jung Do-hyun identified the superiority of the OLED technology in the long run, but said that quantum dot technology provides tangible benefits. LG plans to employ both types of displays for new products, he said. But rival Samsung also plans to launch quantum dot in the first half of 2015.
The LG Mobile Communications Company shipped a record-breaking 16.8 million smartphones in the third quarter, an increase of 39 percent year-on-year and 16 percent more units than the previous quarter. Sales of KRW 4.25 trillion (USD 4.14 billion) and operating income of KRW 167.4 billion (USD 163.16 million) were the highest in the company's history since the third quarter of 2009. LG expects to strengthen its positioning in the smartphone market with its G Series and L SeriesIII models despite the landscape becoming more competitive.
New cinema 4k Monitor
Seperately, LG unveiled its new 4K Monitor (model 31MU97) for global rollout starting this week. The LG 31MU97 mates Digital Cinema 4K (4096 x 2160) resolution with a 31-inch IPS monitor to create a high-end monitor that meets the standards of the Digital Cinema Initiative (DCI).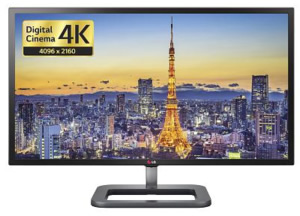 The monitor supports 10-bit color and its IPS display supports over 99.5 percent of the Adobe RGB color space. Its Dual Color Space allows the monitor to display two different color modes at once so that users can compare different perspectives of their work simultaneously. Additionally, the Digital Cinema 4K Monitor comes hardware calibration-ready with LG's True Color Pro software and the DCI color standard support which reproduces color realistically, covering 97 percent of DCI-P3 color space, the standard for digital cinema projectors and digital camera.
The LG 31MU97 will be available starting this week in markets including the United States, South Korea, Germany, Australia and the UK followed by the Netherlands, Spain, Poland and Japan in November, at a suggested price of $1,399.
LG has also recently made available its flagship 34-inch class (34.0-inch diagonal) IPS 21:9 Curved UltraWide Monitor, which has a gentle curve and a quad resolution display (with 3440 x 1440 pixels). The LG 34UC97 monitor supports Thunderbolt 2 and allows multiple devices to be daisy chained together. It also features MAXX AUDIO and 7W stereo speaker system. The 34UC97 carries a suggested price of $1,299.
For those prefering a flat monitor, LG has released a 34-inch class (33.7-inch diagonal) flat UltraWide "WQHD" monitor. A 4-Screen Split feature allows users to divide the screen into four sections at eight different screen ratios. Dual-Link Up allows the monitor to connect to two source devices and display each on a single screen simultaneously. The 34UM95 is compatible with both Mac and PCs, and possesses two HDMI ports, DisplayPort and two ThunderBolt 2 connections. The 34UM95 is available now at a suggested price of $999.
Also available for the first time in the United States this week is the new "LG Gaming Monitor" (24GM77). Gamers will appreciate this new 24-inch class (23.6-inch diagonal) Full HD 1080p monitor, which is specifically designed to handle the action of the latest first person shooter (FPS) games. It offers a 144Hz refresh rate while LG's Dynamic Action Sync (DAS) mode cuts input lag.
LG's Gaming Monitor (24GM77) is available now at a suggested price of $349.